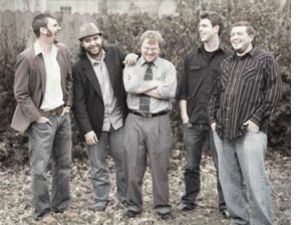 Louisburg, NC -- Libra Music Productions and the Franklin County Arts Council proudly announce the inaugural event of a series of musical concerts featuring exclusively young emerging bluegrass artists. This first concert will take place at 7:30 PM on March 17, 2012 at the Seby B. Jones Performing Arts Center in the Frances B. Dickson Auditorium on the campus of Louisburg College, Louisburg, North Carolina.
Headliner for this event will be "The HillBenders" from Springfield, Missouri. This prestigious group of young musicians claimed the 2009 Telluride Bluegrass Band Competition Championship and the 2010 National Single Microphone Championship. www.hillbenders.com [1]
"Oh… it's bluegrass alright, but it ain't what your Momma listened to"
"The Barefoot Movement" is a group of young bluegrass artists from Johnson City, Tennessee. Two of the groups members, Noah Wall and Tommy Norris, hail from Oxford and Granville County, North Carolina and attended South Granville High School. www.barefoot-movement.com [2]
"Ed Snodderly" is a musician/singer/songwriter/producer and teacher from Johnson City, Tennessee. He ap-peared in the blockbuster "Oh Brother Where Art Thou". Ed's fiddling took center stage in the character of the "Village Idiot". He is an icon of roots music. www.thediamondstream.com [3]
Libra Music Productions is a production company that produces small venue concert events in North Carolina and Virginia.
The Franklin County Arts Council is a community based group of citizens in Franklin County who have promoted the arts since 1979.
Advance tickets are currently on sale at the Louisburg College Box Office, 1-866-773-6354 and online at Louisburg College [4].