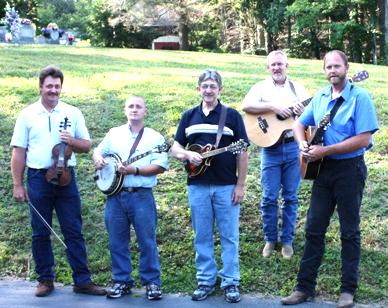 Hiltons, VA -- The Dollar Brothers provide a high energy, family-oriented bluegrass show. A traditional bluegrass band, they are from Watauga and Ashe Counties in North Carolina. Darrell Dollar, lead singer and older brother to Barry and Wade, plays mandolin and has written several songs for the group. Barry Dollar plays fiddle and banjo and sings lead and baritone. Wade Dollar, youngest of the three brothers, sings tenor and lead and also plays claw hammer banjo and dobro. Tim Norris, banjo player, is a cousin to the Dollars. Tim also sings, and he plays guitar and piano. From Ashe County, Kevin Miller plays bass and guitar for the band and helps out on vocals.
Saturday, July 17th, 2011, at 7:30 p.m., the Carter Family Fold in Hiltons, Virginia, will present a concert of bluegrass music by the Dollar Brothers. Admission to the concert is $7 for adults, children 6 to 11 $1, under age 6 free.
The Dollar Brothers have shared the stage with such luminaries as Bill Monroe, Jim and Jesse, the Seldom Scene, Doyle Lawson, and the Osborne Brothers. The group loves doing the old standard bluegrass tunes as well as some of their own compositions and some gospel music. Having been in bluegrass music for over twenty years, this group really loves sharing their music with others. They've been performing at the Carter Fold for over fifteen years.
For some of the region's finest bluegrass, be sure to come out and see the Dollar Brothers at the Carter Family Fold! For more information on the group, go to their web site at: TheDollarBrothersBand.com [1].
Carter Family Memorial Music Center, Incorporated, is a nonprofit, rural arts organization established to preserve traditional, acoustic, mountain music. For further information on the center, go to www.CarterFamilyFold.org [2]. Shows from the Carter Family Fold can be accessed on the internet at www.CarterFoldShow.com [3].
Carter Music Center is part of the Crooked Road: Virginia's Heritage Music Trail. You can visit the Crooked Road Music Trail site at TheCrookedRoad.org [4]. Partial funding for programs at the center is provided by the Virginia Commission for the Arts and the National Endowment for the Arts. For more information on Saturday's concert, contact the Mountain Music Museum at 276-645-0035. For recorded information on shows coming up at the Fold, call 276-386-6054.