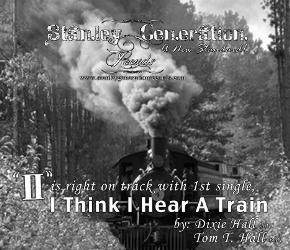 Following in the tracks of Two's previous number one hit, "Train Songs," this new release is also from the pens of Ms. Dixie and Tom T. Hall. Both of the Halls are dedicated Stanley enthusiasts and according to Ms. Dixie have a question they ask themselves if they're ever stuck for words. Simply ... WWCS (What Would Carter Say?) "I Think I Hear A Train" is the latest single by Ralph Stanley II. As Tom T & Dixie Hall say, "Moving fast and needs reporting!" We're on it!
Ralph Stanley II is the son of mountain music immortal Ralph Stanley. For the past several years, he has distinguished himself as lead singer and rhythm guitarist for his father's Clinch Mountain Boys band. Called Simply "Two" by family and friends, Stanley has spent nearly half his 30 years as lead singer and rhythm guitarist for his father's fabled bluegrass band, the Clinch Mountain Boys. But like the great vocalist Keith Whitley, who preceded him in that position, Stanley has always had a passion for hardcore country songs, the ones that never wear thin from repeated singing.
Critics have long praised Stanley's vocal chops and his encyclopedic knowledge of traditional rural music. His rich, resonant voice routinely inspires comparisons to George Jones and Merle Haggard. As lead singer for The Clinch Mountain Boys, Stanley fulfills the role earlier held by such revered stylists as Larry Sparks, Charlie Sizemore, the late Keith Whitley and, of course, his uncle Carter Stanley of the trailblazing Stanley Brothers. Like these predecessors, Stanley is as much at home performing classic country music as he is bluegrass.