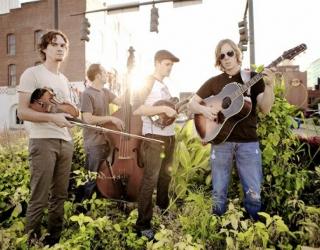 Austin, TX -- MilkDrive, Austin's alt-folk-progressive acoustic string band, released its debut studio album,
Road From Home
produced by Bil VornDick (Alison Krauss, Bela Fleck), in April. The band has been touring since the release, and will perform at upcoming festivals RockyGrass and Austin City Limits Music Festival. MilkDrive recently performed on "Woodsongs Old-Time Radio Hour"
http://www.woodsongs.com/showlist.asp
and recorded a music video for the song,
SoHo
.
Like its independently released debut live album, the band's new studio album features fingers flying at "unbelievable" speed, original tunes that go beyond extraordinary and "impeccable" arrangements. Dallas Observer says "... MilkDrive is a progressive string outfit that will dazzle you with dexterity. These guys don't play; they shred. If they were a metal band, middle-schoolers across Texas would be scribbling the band's name on every desk in sight. Road From Home, MilkDrive's debut studio effort ... besides the obvious instrumental skills, the album delivers quality songwriting as well. ..."
Paste Magazine featured the band in the Best of What's Next "... While [MilkDrive] may not fit in a specific genre, they easily fall into the catch-all pool of Americana because of the songs. But the virtuosity of each member's soloing has attracted fans of pop and even metal, something not lost on these homegrown bluegrass boys whose personal influences range from David Grisman to Dirty Ol' Bastard to Nine Inch Nails. ..."
MilkDrive's Upcoming Shows include:
July 13, Music City Roots, Loveless Cafe, Nashville
July 14, Natasha's Cafe, Lexington, Kentucky
July 15, Down Home, Johnson City, Tennessee
July 16, Evening Muse, Charlotte, North Carolina
July 19, Eddie's Attic, Decatur, Georgia
July 22, The Bugle Boy, LaGrange, Texas
July 23, Fiddler's Green, Austin (w/ Billy Bright)
July 31, RockyGrass, Lyons, Colorado
August 2, A Club, Spokane, Washington
August 4, Choppers, Big Sky, Montana
August 5, The Top Hat, Missoula, Montana
August 6, The Garage at Yellowstone Valley Brewing, Billings, Montana
August 8, Mystic Hot Springs, Monroe, Utah
August 10, Crusty's Pizza, McCall, Idaho
August 11, Liquid Lounge, Boise (w/ Taarka)
August 13, Grand Targhee Bluegrass Afterparty at Trap Bar & Grill, Alta, Wyoming
August 20, The Uptown Marble Theater, Marble Falls, Texas
September 2, Four Corners Folk Festival, Pagosa Springs, Colorado
September 8, Threadgill's, Austin
September 10, Last Concert Cafe, Houston
September 18, Austin City Limits Music Festival, Zilker Park, Austin
October 22, Liberty Tree BBQ Festival, Dalton, Georgia

For more information, see www.MilkDrive.com [3].