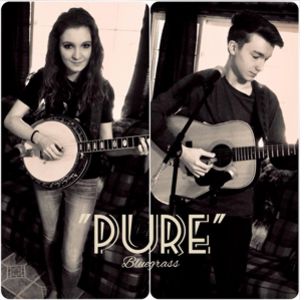 Marteka N William Lake are siblings with a taste of Flatt & Scruggs. Marteka has studied the Scruggs style on banjo and is well versed in the method. Her younger brother, William, also caught on to the Flatt & Scruggs sound when he learning guitar and chose to follow Flatt's thumb and finger style. While most in bluegrass today only follow the flat pick method of playing, this is not how Lester Flatt played. The two have a unique style in bluegrass that truly follows tradition and the sound of the genre's most popular pioneer duo.
As they embark on their musical journey, the two have released their latest album, "PURE" Bluegrass. "PURE" Bluegrass is just that – pure bluegrass done in the bluegrass style that helped push the style of music to the forefront of the folk revolution of the early '60s. Marteka and William are continuing the traditional sound with a fresh young and energetic style. It is no wonder they have been all over social media and their videos are spread far and wide.
"PURE" Bluegrass is an exciting new project for them. Its pure bluegrass done in a pure way and consists of eleven tracks of traditional bluegrass songs. From the opening track of "Your Love is Like a Flower" the album wanders through old favorites like "Pike County Breakdown" to the last track, "Shortenin' Bread" that just leaves you wanting more tracks. Each of the tracks fully showcases Marteka's talent on the 5-string banjo and William's Flatt style picking and vocals. Even his vocals even have that soft southern Flatt drawl that people grew to love about that sound. "PURE" Bluegrass is Flatt & Scruggs reincarnated.
The musicianship on "PURE" Bluegrass is what traditional bluegrass should sound like. Their music retains the soul of the genre without much of today's spit & polish making much of today's music almost sterile. Marteka and William kept the pure soul in the music on "PURE" Bluegrass.
Every song has been arranged to give it that pure Flatt & Scruggs feeling not really heard since the mid '60s. This is an exciting addition to bluegrass music's roots and today's sound all in one. This is their fifth release and shows a marked improvement since their debut. This is the future of bluegrass and as long as the young pick it up and advance it as Marteka and William are doing, the future of bluegrass is in good hands.
Pick up a copy of "PURE" Bluegrass and see why everybody is talking about these two young artists.