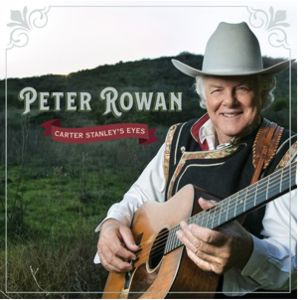 Charlottesville, VA -- Peter Rowan was just a young bluegrass boy when he caught the attention of Bill Monroe, who made him an actual Blue Grass Boy in 1963, or maybe '64. Rowan isn't certain exactly when he became the band's guitarist and lead singer, but the moment Monroe introduced him to fellow icon Carter Stanley is etched in his memory just as indelibly as the inked entry in his 1966 diary. Within a few months, Stanley would be gone, but the impact he and his brother, Ralph, had on Rowan—and the world—would grow even stronger. He acknowledges their influence, and finally gives the story of that meeting a definitive telling, with his new Rebel Records album, Carter Stanley's Eyes.
Releasing April 20, the album pays respects to bluegrass's most famous brothers with two songs penned by each; others, such as the traditional "Hills of Roane County" and the Carter Family's "Will You Miss Me," were Stanley Brothers staples.
"But this album is not a tribute to the Stanley Brothers; it's an honoring of them, and of my roots," Rowan clarifies. More specifically, it maps the path he followed from their musical roads to his own. Along the way, he visits Monroe ("Can't You Hear Me Calling"), the Louvin Brothers ("A Tiny Broken Heart") and Lead Belly ("Alabama Bound"), whose presence reinforces both his and Monroe's blues influences.
Rowan, who produced the album, gathered several luminaries to join him on the journey: lead guitarist Jack Lawrence, of Doc Watson's band; mandolinist/vocalist Don Rigsby, whose 2010 album, Doctor's Orders: A Tribute to Ralph Stanley, features Stanley and alums of his Clinch Mountain Boys; guitarist/vocalist Tim O'Brien (Hot Rize); percussionist Jamie Oldaker (Eric Clapton); and banjoist/guitarist/vocalist Patrick Sauber (seen in the film A Mighty Wind). They're joined by Rowan's Bluegrass Band mates: another former Blue Grass Boy Blaine Sprouse on fiddle and vocals, Chris Henry on mandolin and vocals and Paul Knight on acoustic bass.
Together, they do indeed honor their forbears, staying faithful to tradition instead of going for what Rowan calls the "razzle-dazzle" of progressive bluegrass or jamgrass. "To me, the importance of the music is in the songs," he says. "It's about the poetic material. Bluegrass is part of a literary tradition, a poetic tradition."
In the album's liner notes, Rowan expresses how moved he was by Carter's "mysteriously longing voice ... tragic, yet yearning for spiritual transcendence."
He further expounds, "When you grow up and it's time for the real stuff, you've got to encounter the honesty of Carter Stanley. And it's very subtle, because in the southern tradition, nothing was ever laid out straight. People talk sideways all the time."
As for why it took more than 50 years for him to get around to telling his pivotal Carter Stanley story, he says simply, "No tune before its time."