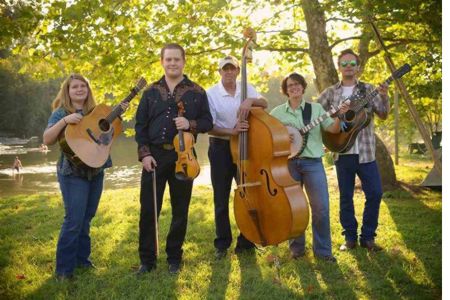 Saturday, February 24th, 2018, at 7:30 p.m., the Carter Family Fold in Hiltons, Virginia, will present a concert of old time music by the Cabin Creek Boys. The Cabin Creek Boys play old time hillbilly music from the mountains of southwest Virginia and northwest North Carolina, performing at area festivals, fiddlers' conventions, square dances, and other community events. Led by multi-instrumentalist husband and wife duo Chris and Erika Testerman of Lansing, North Carolina, the band also includes Jackson Cunningham of Grant, Virginia, on guitar; Trish Kilby Fore of Galax, Virginia, on clawhammer banjo; and Jerry Steinberg of Salem,Virginia, on the upright bass.
Chris Testerman was raised in the Whitetop section of Grayson County, Virginia. While attending Mount Rogers Combined School, he became interested in fiddle playing and was a member of the Mount Rogers School String Band. After a lot of hard work, determination, and guidance from mentors Thornton and Emily Spencer, Chris has now become a strong Whitetop-style fiddler. Chris toured Canada in 2013 and the United Kingdom in 2014 with the Whitetop Mountain Band. Following in the footsteps of another legendary Whitetop fiddler, Albert Hash, Chris also builds fiddles. He learned much of his craft from Audrey Hash Ham and Archie Elmer Powers. Chris also sings harmony for the Cabin Creek Boys in the style of the early Stanley Brothers recordings.
Erika Testerman, originally from Mount Airy, North Carolina, grew up in a musical community and was taught and influenced by several well-known Surry County musicians Chester McMillian and Mac and Steve Snow. Erika and Chris teach in the Sparta School's Junior Appalachian Musicians program and feel it is important to pass on the area's musical traditions to the younger generation. Many times during the Cabin Creek Boys performances, Erika will lay down her guitar, pick up a fiddle, and join Chris on a few toe-tapping tunes. Erika also brings a real talent for singing to the Cabin Creek Boys.
Jackson Cunningham, who's from southern Oregon, is no stranger to old time and bluegrass. He grew up around music and has been playing guitar and singing most of his life. He has toured in many different states and abroad, including both England and Australia. Like Chris, Jackson is a luthier and specializes in building guitars and fiddles. He learned most of his musical techniques from Wayne Henderson, Herb Key, and Audrey Hash Ham. Jackson does most of the lead singing for the Cabin Creek Boys and will happily pull out his mandolin for a tune on occasion.
Born and raised in the Lansing community of Ashe County, Trish Kilby Fore began playing the clawhammer banjo after suffering a knee injury playing softball. Trish was fortunate to be around many good musicians growing up and attended jam sessions and dances with her grandparents. Trish's banjo playing style was influenced by Emily Spencer, Enoch Rutherford, Harold B. Hausenfluck, and Larry Pennington. In 1997, Trish had the opportunity to tour Germany and France with the old time band Farmer's Daughters. Married to banjo player and maker Kevin Fore, Trish often plays a Round Peak banjo with a formica checkerboard design neck he made for her. Trish also sings a few songs with the Cabin Creek Boys.
Although Jerry Steinberg was not born in Virginia, he got here as quickly as he could, and he has made his home in Salem, Virginia, for most of his life. Jerry learned to play the bass in his mid-thirties and was lucky to get his start in old time with Kyle Creed and in bluegrass with Ted Lundy. Jerry's timing is the foundation for the Cabin Creek Boys' hard-driving, high-energy and danceable beat. Jerry can walk, slap, and chime the bass. A walking encyclopedia of old time, bluegrass and hillbilly music, Jerry is often sought out by fellow musicians, academics, and the Bluegrass Unlimited magazine to answer those "hard-to-answer" type questions.
The Cabin Creek Boys have fun entertaining audiences with their unique style of traditional music that includes old time hoedown instrumentals, bluegrass songs, two-step numbers and waltzes. They love to make people happy with their music. Visit them on their Facebook Page [1] to check out the band. Come on out and join us for the group's second performance at the Fold. Fans of the Whitetop Mountain Band will love the Cabin Creek Boys. Bring your dancing shoes and all your friends and family for a carefree night in the place country music got its' start – at the foot of the beautiful Clinch Mountains. The Carter Family Fold is an alcohol and drug free facility, and we emphasize fun for the whole family. Concert admission is $10 for adults, $2 for children 6 to 11, under age 6 free.
Carter Family Memorial Music Center, Inc., is a nonprofit, rural arts organization that was established in 1979 to preserve traditional, acoustic, mountain music. Saturday concerts have been held since 1974. The center is family-friendly, and an alcohol and drug free facility. For more information, go to http://www.carterfamilyfold.org [2]. Partial funding for programs at the center is provided by the Virginia Commission for the Arts, the National Endowment for the Arts, and the Virginia Tourism Corporation. To access recorded information on the upcoming Saturday show at the Fold, call 276-386-6054. The Fold is on Facebook – page Carter Fold – and Twitter – @carterfoldinfo.