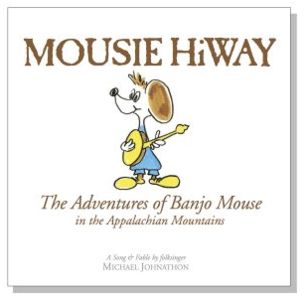 Folksinger and banjo picker and former Knott County resident, Michael Johnathon, has produced a musical kids project that will introduce K-7th grade kids to the banjo, bluegrass music and the instruments that play it.
The 32-page full color illustrated book Mousie Hiway: The Adventures of Banjo Mouse in the Appalachian Mountains is a 6½ minute acoustic hip-hop Appalachian bluegrass song that tells the story of of Banjo Mouse traveling the Appalachian mountains and forming a bluegrass band, complete with illustrations that Michael drew himself. You can hear the full audiobook there that Michael Johnathon recorded with the McLain family band and Rob Ickes at the Mousie Hiway link below.
The reason for this approach is to get kids who might not be familiar with bluegrass music to "want" to find out more. It also celebrates the Appalachian "front porch" heritage so dear to many in the mountain communities.
In that goal, Johnathon chose a very unexpected approach:
Included with the book is a CD of the audio book version, recorded as an acoustic Appalachian hip-hop bluegrass spokenword composition. The recording features Kentucky bluegrass legends the McLain Family Band and multi-award winner and IBMA Dobro Player of the Year Rob Ickes. The 32-page full color book includes Lesson Plans for classrooms and a CD of the audio book version as well.
Johnathon, the creator and host of the WoodSongs Old-Time Radio Hour, actually lived in Mousie, KY for nearly three years in the late 80's. A prolific songwriter and instrumentalist, he is releasing a 23-song album of all banjo songs to coincide with the release of the Mousie Hiway, both due in May 2018.
You can order autographed (optional) advancee copies now by clicking here [1]. Pre-orders include a Free Copy of the 23-song Moonfire banjo album if you order before May 1st. Call 859-255-5700 with a credit card, send a check for $18.95 plus 2.75 shipping (21.70 total) to PoetMan Records PO Box 200, Lexington, KY 40588, or order via PayPal for $18.95 plus $2.75 shipping to radio@woodsongs.com [2]