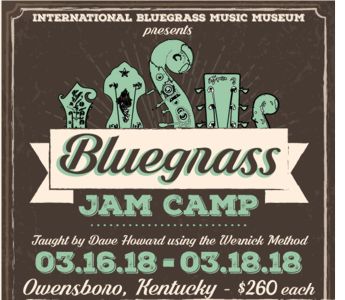 Owensboro, KY -- Here's your chance to play music in a fun environment, connect with other musicians, and receive top-notch jamming tips from an experienced teacher. Join us March 16-18, 2018 for the Wernick Method Jam Camp hosted by the International Bluegrass Music Museum. Led by Dave Howard of 23 String Band & the Louisville Folk School, this 3-day camp will take place at the Museum's current location in downtown Owensboro.
You'll learn about the ground rules and etiquette of typical jams, how to find melodies and fake solos, how to follow new songs, and so much more all in a low-pressure, time-tested teaching environment.
Pete Wernick's inventive teaching method focuses on the student's desire to play music in a social setting. The emphasis is to address the general lack of this type of learning situation, and these camps have been launching beginning jammers everywhere! We will show you how to be in a bluegrass jam session, fitting in at your own ability level. You will be jamming the first morning!
Check out the video from instructor, Dave Howard, and visit our website [1] for more information and to register.
Dave Howard has enjoyed years of singing and playing mandolin throughout the U.S. with The 23 String Band - winners of the Rockygrass Bluegrass Band Competition and Louisville Music Awards Bluegrass Artist of the Year - and has over a decade of experience on-stage with Louisville based Relic Bluegrass band.
Dave serves as Director of Louisville Folk School, a traditional music education community he founded in 2015, and sits on the board of Bluegrass Anonymous - Louisville's Bluegrass Music Association.
Dave moved from his childhood home of Owensboro, KY to study Art History at University of Louisville, and recently apprenticed as a fiddler through a Kentucky Arts Council Masters Apprenticeship Grant for Folk Arts. When he isn't busy performing around the country, he can often be found running joyfully through the woods near his home in the historic Clifton neighborhood.