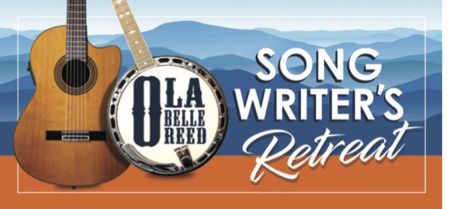 The Ashe County Arts Council welcomes the weekend retreat of songwriting, making music, and celebrating the work of Ola Belle Reed with the Song Writer's Retreat. The workshop will be held at the Ashe Civic Center Friday, April 13 through Sunday, April 15, 2018. It is open to songwriters of all genres and styles, and all accompaniment instruments are welcomed. Instructors: Cathy Fink, Claire Lynch and Sam Gleaves. Tuition $200 adults, $150 students. Assistance available. Call 336-846-2787.
IBMA members Claire Lynch, Cathy Fink and Sam Gleaves will teach at this songwriting retreat in April, featuring group workshops, sharing sessions and private writing time, covering writing techniques, songwriting building blocks and best practices. This is a distinguished teaching staff: Lynch has seven IBMA awards to her name, Fink has garnered two Grammys and twelve nominations, and Gleaves is a bright light in the burgeoning Appalachian music scene.
Workshop space is limited and early registration is encouraged. $200 adults; $150 students. Tuition assistance and limited partial scholarships are available. Contact the Ashe County Arts Council to reserve your space; credit cards are accepted. Call 336.846-2787 for more information or to register.
The goals of the retreat are to:
honor Ola Belle Reed as a songwriter, storyteller and humanist who used her craft and art to build community and love
connect traditional music and story to contemporary songwriting that builds on that tradition
use Ola Belle's songs and life as a springboard for teaching songwriting with intention. That means your songwriting not only does something for you, but it does something for other
Though Ola Belle's music is steeped in traditional Appalachian sounds, they loan themselves to other treatments. Songwriters of other genres may want to expand their own work and versatility with this retreat. Ola Bella Reed's autobiographical song, "I've Endured"

Ola Belle Reed was born Ola Wave Campbell on August 17, 1916, in Grassy Creek, North Carolina and has placed her indelible mark in traditional mountain music. She has performed with the North Carolina Ridge Runners, New River Gang, and was an active musician throughout the region often performing with other family members including her husband, Bud Reed, David Reed, Ralph Reed, Herb Campbell, and Alex Campbell.