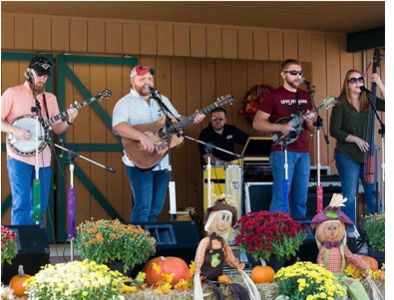 Wilson Pickins Promotions proudly welcomes Kentucky based bluegrass band TURNING GROUND to the agency. The Wilson's met up with the band after a Festival performance several years ago in Ohio and became fast friends. Melanie Wilson says, "Their energy and soul during the performance lit the crowd on fire and after meeting them I knew they were something special on and off stage. I've been a fan and we've been pals ever since."
The extremely loyal fan base of Turning Ground rarely ever misses a show and follows them faithfully on all social media. Lead vocalist, Nathan Arnett, who also writes most of the bands original material, is well known for sharing his new material live on Facebook to his fans and at times has been known to gain thousands of views for a live performance.
The band is currently putting the finishing touches on a brand new album "Old Country Store", to be released this winter. Turning Ground recorded at Hilltop Line Studio with David Ratliff and Albon Clevenger and the album is being mixed and mastered by Steve Wilson at Bonfire Recording Company. They currently have two very popular records, "Cell of Mine" and a full gospel project "It is Finished" available on AirPlay Direct and with mainstream download distributors, iTunes and CD Baby.
Turning Ground is based in Salyersville, Kentucky, rooted deep in the Appalachian Mountains of Eastern Kentucky. Their style of bluegrass and bluegrass gospel is original and built around five people that simply love the music! They borrow from the traditional sounds of yesterday and blend it with the contemporary sounds of today's bluegrass to deliver a solid drive to their music. Turning Ground is one of the most talented new, energetic bands to surface onto the bluegrass scene in years.
Band personnel includes Nathan Arnett on vocals/guitar, Ralph Adams on vocals/guitar, Joshua Cantrell on vocals/banjo, Kayla Amburgey on vocals/bass and Albon Clevenger on fiddle.
This is a must see band for an electrifying show this coming season. Check them out on their brand new website to learn more about them and where you can go see them perform. Promoters and radio professionals can contact Wilson Pickins directly at wilsonpickins@gmail.com [1].