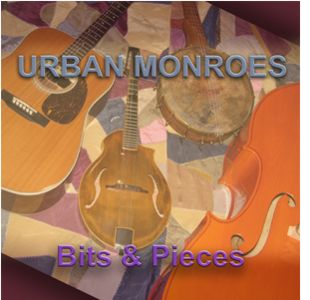 Fashioned from the heart of tradition and infused with adrenaline, the Urban Monroes' bluegrass style combines the skills of some of the Pacific Northwest's finest talent. Fast-paced and highly energetic, the band performs both original and traditional bluegrass with a style and delivery uniquely its own.
As individuals the Urban Monroes have earned songwriting awards, a National Endowment for the Arts grant, and bluegrass instrument championships. They have been featured on the Emmy award winning PBS series Art Beat and their musical experiences have taken them around the world. Their songs and albums have appeared on Bluegrass radio charts nationally and internationally. As a band they have excited audiences from some of bluegrass' biggest venues with a fully charged stage presence and an intricate delivery.
Bits and Pieces is a 15 song anthology of the band's 4 prior CD releases. It rolls down a backwoods super highway on a tour of bluegrass's rural roots and modern skylines, a stretch of road where old Joe Clark and Secret Agent Man merge from the same onramp. Their adroit arranging ability is fortified with a divine pairing of sublime voices and power picking. With a panoramic view through inspiring originals and a driving rootsy style unrelentingly their own, Bits and Pieces is a joy ride down the Appalachian Trail's fast lane. The Urban Monroes put an added twist in every mile of the excursion, taking the most scenic route at every opportunity and seeking the adventure in every song.
Bits and Pieces Track List:
"Sink or Swim" – Pavement and Pathways
"Little Maggie" – One Fret Makes A Difference
"Old Joe Clark" – One Fret Makes A Difference
"Secret Agent Man" – Pavement and Pathways
"How Mountain Girls Can Love" – One Fret Makes A Difference
"When the Aspens" – Pavement and Pathways
"Fireball Mail" – One Fret Makes A Difference
"Hole in My Heart" – Appaloosa Daydream
"On My Way" – Upcoming Album
"Time of Your Life" – Pavement and Pathways
"Never My Love" – Appaloosa Daydream
"White River" – One Fret Makes A Difference
"William's Still Alive" – Upcoming Album
"Do You Hear What I Hear" – Playing in the Snow
"Mr. Grinch" – Playing in the Snow