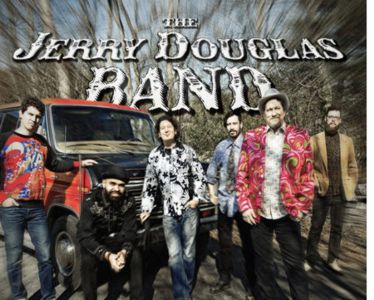 Nashville, TN -- The Jerry Douglas Band did something last night that few can do. They absolutely captivated "Music City" by creating an atmosphere that went far beyond the music itself and took the crowd to a unique space in time that was wrapped in a beautiful, simple elegance.
As expected, the band's musical performance was incredible, but the jaw dropping silence of the crowd was amazing and was only surpassed by the respect and applause of the folks lucky enough to be in attendance.
"Ask yourself a question, "What If"... you were able to end the year having fun with your family, friends and fans? Last night I didn't have to ask myself that question... it just happened!" said Jerry Douglas, Rounder Records Recording Artist.
"As this year comes to a close, we are sometimes lucky enough to end it on a 'high-note when something truly special occurs... this show was it," expresses Robert Weingartz, Chairman - AirPlay Direct. "We could not be more honored to have Jerry as an AirPlay Direct Artist Endorsee, and the whole band as an integral part of the AirPlay Direct family."
Shawn Camp came prepared to wow, and have some fun! Armed with only his voice, his songs and his guitar Shawn Camp opened the evening with a very inviting and memorable solo performance. He held the crowd in the palm of his hand. Shawn's stage presence and ability to interact with the crowd by having them participate at times, was a shining example of an experienced artist and showman doing what he loves so much... performing and visiting with his friends and fans... from the stage.
"It truly was an amazing night. It was very cool to end the year this way with my buddy Jerry and all of our friends. I had so much fun with everybody; thanks for coming out." says Shawn Camp, Independent Artist / Songwriter.
Lynda Weingartz, CEO - AirPlay Direct said, "Shawn is a musical treasure and seems to absolutely sparkle every single time I go to one of his shows. Shawn's performance was very special to me."
AirPlay Direct is the premiere digital delivery / distribution company, brand and platform for engaging radio and airplay worldwide. AirPlay Direct is a professional B2B music business environment for artists, labels, publishing companies, radio promotion firms, PR / Media firms, etc.
AirPlay Direct currently has 11,000 radio station members in over 90 countries and serves over 42,000 artist / label members globally on a daily basis. AirPlay Direct currently operates and services the largest global independent radio distribution network in the world with respect to Americana, Bluegrass, Folk, Blues, Alt. Country, Roots Music, etc. AirPlayDirect.com
About the Direct Buzz: The Direct Buzz is a quarterly digital music magazine, which operates as a direct portal between your music and artistry to the APD 11,000 radio station members in over 90 countries, the APD 42,000 artist / label members, and the global music industry at large.
For more information on featuring your label, artist or professional music services/equipment company in the Direct Buzz or to provide general music industry content and information, contact Lynda Weingartz, Editor in Chief, at lynda@AirPlayDirect.com [1]
Collective Evolution is a boutique, high-end entertainment and media consulting firm. Our clients include recording artists, record labels, record producers, management companies and radio promotion / PR firms. We deliver creative consultative services and customized business solutions to our clients based upon their specific needs and goals.