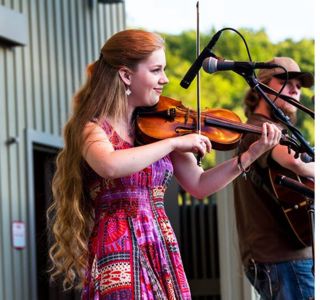 Yadkinville, NC -- The quality and diversity of North Carolina's traditional music scene will be on display during the third annual Sounds of the Mountains concert series in January at the Willingham Theater in Yadkinville, North Carolina. The series is a collaboration between the Blue Ridge Music Center and the Yadkin Cultural Arts Center The performances will feature old-time mountain music, progressive bluegrass, and contemporary Americana with some of the Old North State's best roots and traditional performers including Chatham County Line (Raleigh), The Jeff Little Trio (Todd), and the Snyder Family Band (Lexington).
Sounds of the Mountains will take place the first three Saturdays of January. Chatham County Line will kick off the series on January 6 with The Genuine. The Jeff Little Trio and The Piney Woods Boys take the stage on January 13. The Snyder Family Band and ShadowGrass will close out the series on January 20. Concerts begin at 7:30 p.m. and admission is $20 per concert or $45 for a three-show pass.
Sounds of the Mountains Concert Series Presented by the Blue Ridge Music Center in collaboration with the Yadkin Arts Council
Chatham County Line has released eight albums, including their most recent, Autumn (2016). The group got its start as an opening act for Tift Merritt's band, The Carbines. The quartet's sound is tied to bluegrass history, from bluegrass inventor Bill Monroe to innovators like John Hartford, but is influenced by the members' backgrounds in rock bands. Chatham County Line is known for poignant songwriting and inventive acoustic arrangements that draw upon a broad array of American roots influences, highlighted by trademark three- and four-part harmonies. The band's members are lead singer-songwriter and guitarist Dave Wilson, banjo picker Chandler Holt, upright bassist Greg Readling, and multi-instrumentalist John Teer.
With few exceptions, the piano does not play a prominent part in Appalachian or Americana music, and is rarely the lead instrument. But The Jeff Little Trio is an exception. A remarkable pianist, Little's distinctive two-handed style, much influenced by the mountain flat-picked guitar tradition, is breathtaking in its speed, precision, and clarity. Little's involvement with fiddle tunes, old-time country, and traditional blues dates back to his childhood in Boone, where his family owned a music shop. The shop was a regular gathering place for musicians who would stop by just to pick a few tunes. At an early age, Little sat in with many of the musicians from the region, including Doc Watson. These influences helped shape his approach to the piano, which is based on deep musical traditions but also highlights more contemporary mountain music styles and traditions. Little has released four CDs and was inducted into the Blue Ridge Music Hall of Fame in 2014. The Jeff Little Trio features Steve Lewis on banjo and guitar and Josh Scott on bass.
The Snyder Family Band is comprised of brother and sister duo, Zeb (guitar, mandolin) and Samantha (fiddle), plus their dad Bud (bass). The group plays a unique fusion of musical styles including bluegrass, blues, country, gospel, and jazz. Zeb, a skilled multi-instrumentalist, began his musical career with classical guitar training at age seven. He pulls from a wide variety of musical genres such as Southern rock, blues, and country, tastefully creating his own rich style. Samantha, who began in classical violin lessons at the age of three, is an award-winning fiddler as well as a top-notch singer and songwriter. She loves the expressive, soulful nature of her instrument, and is dedicated to crafting unique songs with meaningful lyrics and stirring music.
Evening concerts the first three Saturdays in January starting at 7:30 p.m.:
Jan 6: Chatham County Line with The Genuine
Jan 13: Jeff Little Trio and The Piney Wood Boys
Jan 20: Snyder Family Band and ShadowGrass
The concert series takes place at The Willingham Theater, 226 E. Main St., Yadkinville. Tickets are $20 per concert or $45 for all three shows. Additional information: www.BlueRidgeMusicCenter.org [1] and www.YadkinArts.org [2]
The Blue Ridge Music Center, milepost 213 near Galax, Virginia, celebrates the music and musicians of the Blue Ridge Mountains. May through October, visitors can explore a welcome center, the Roots of American Music Museum, and enjoy live music. The site is operated through a partnership between the National Park Service and Blue Ridge Parkway Foundation. For more information, visit BlueRidgeMusicCenter.org.
The mission of the Yadkin Arts Council is to enrich the lives of every citizen of Yadkin County and beyond by providing opportunities for artists, no matter what their specific creative outlet is, even if it's just consuming art. For more information, visit www.yadkinarts.org [3]