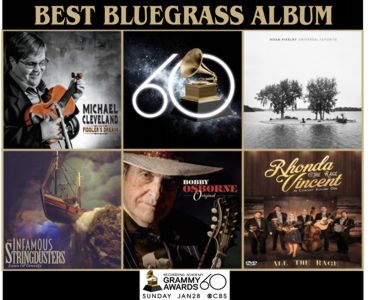 The award nominees for the 60th Annual Grammy Awards have been announced. In the Best Bluegrass Album category we have five albums spreading the breadth of the style realm in the genre. In addition to the bluegrass category, we find our friend Larry Cordle up for Best Roots Gospel Album for Give Me Jesus, Alison Krauss is up for Best American Roots Performance for "I Never Cared For You" and Best Country Solo Performance for "Losing You", and "Cumberland Gap", David Rawlings & Gillian Welch, songwriters, is up for Best American Roots Song. Many other of our favorite artists are scattered throughout the nominees list [1]
The five bluegrass albums include the following titles:

Fiddler's Dream
Michael Cleveland

With Fiddler's Dream, Cleveland delivers his finest studio album to date: full of the fire and finesse that has earned him fans from across the globe. Highlights include a blistering performance of the Arthur Smith penned title track "Fiddler's Dream," a step out vocal from Sam Bush on the John Hartford classic "Steamboat Whistle Blues," and a twin fiddle show down on the Bill Monroe classic "Tall Timber" featuring Jason Carter (Del McCoury Band). Fiddler's Dream also showcases Michael's masterful guitar playing on "Earl Park" and mandolin playing on "Blues for Bill," "Lonesome Desert" and "Earl Park." Additional guests include Jerry Douglas (Dobro), Jeff Guernsey (guitar), Lloyd Douglas (banjo), Andy Statman (mandolin), Paul Franklin (steel guitar), Vince Gill (vocals), and co-producer, Jeff White (guitar and vocals). Michael Cleveland has undeniably achieved a new personal best with Fiddler's Dream and in the process has raised the bar for all aspiring fiddle players to follow.

Laws Of Gravity
The Infamous Stringdusters

Laws of Gravity is The Infamous Stringdusters at their finest, with honest songs and a fresh yet familiar bluegrass/Americana/progressive feel. "You write what you know," says Falco. "We're on the road all the time and there's always gravity that's keeping you grounded, and pulling you home. The themes on this album stem from things that happen out on the road, and the freedom we have to make music. There's nothing freer than being on stage and making music. We're telling these stories of musical nomads, all the stuff we like to do." Of the recording process, Pandolfi adds, "We had a lot of good energy stored up as we were getting into production, as well as a few more years of experience with the studio. We had much more of a vision for how we wanted this album to come together than we did with past projects. We know that capturing the live, collective sound always opens a door for the listeners, as opposed to building and crafting something that you can only make in the studio. We are a band. We play live, together, and more than any one song or achievement, this is what we do. Now we have an album that captures that."

Original
Bobby Osborne

Nearly 60 years into his career, Bobby Osborne has delivered Original. It is the defining album of his solo career and cements his legacy as one of the genre's most important artists. At 85 years old, when he could be resting on his many laurels, Bobby is still driven by a desire to push the musical envelope. Alison Brown recognized a kindred spirit in Bobby while working with him in the studio on Peter Rowan's album, The Old School. During one of the sessions Bobby mentioned that he wasn't sure he'd have the chance to make another solo album. It was clear to Alison that Bobby still had something important to say musically and that realization became the genesis for the album. Bobby Osborne is one of bluegrass music's true innovators. His trailblazing work with The Osborne Brothers, who charted 13 Billboard Country top 100 hits in the 1960s and 70s, took the sounds of the banjo, mandolin and Bobby's one of a kind tenor voice to a mainstream radio audience – one of only a handful of acts in the history of bluegrass ever to have achieved cross over success. Blurring the boundaries between bluegrass and country music, The Osborne Brothers were the connective tissue between the first generation creators of bluegrass and the subsequent generation of newgrass musicians who, in turn, paved the way for the diversity and innovation that characterize contemporary bluegrass.

Universal Favorite
Noam Pikelny

Universal Favorite also marks Pikelny's debut as a multi-instrumentalist. In addition to his 1941 Gibson Banjo, Pikelny plays a carefully chosen assortment of vintage and exotic instruments that includes a four-string resophonic guitar from 1928, a 1953 Telecaster, and a 1938 Kalamazoo flat-top guitar. An obsessive collector of vintage instruments, Pikelny is fascinated by the insights they provide into bygone days-the way these objects connect the present with the past. The album, produced by his fellow Punch Brother Gabe Witcher and engineered by longtime collaborator Dave Sinko, features a dozen new recordings of original compositions as well as covers of tunes by Josh Ritter ("Folk Bloodbath"), and Elliott Smith ("Bye"), Roy Acuff ("My Tears Don't Show"), and Roger Miller ("I've Been a Long Time Leavin' (But I'll Be a Long Time Gone"). No Depression premiered "Folk Bloodbath" today.

All The Rage - In Concert Volume One [Live]
Rhonda Vincent And The Rage

Rhonda Vincent is giving fans the opportunity to experience the most exciting show in the history of bluegrass music from the convenience of their living rooms, as captured in their new DVD/CD "All The Rage - Volume One." The project features 14 songs, filmed LIVE at Bethel University in McKenzie, Tennessee during a 60-minute concert setting, and is available on both CD and DVD. The full concert footage features Vincent on mandolin, along with world-class musician Rage members Hunter Berry (fiddle), Brent Burke (resophonic guitar), Mickey Harris (bass), Aaron McDaris (banjo), and Josh Williams (guitar). Each musician is at the top of their game, bringing their unique individuality, while also being featured in solo performances. Collectively their skills are simply unmatched, with several original songs, which further make this a one-of-a-kind presentation.
The Recording Academy™ welcomes this year's class of GRAMMY® nominees. The final round of GRAMMY voting is Dec. 7–21, 2017. The Recording Academy will present the GRAMMY Awards® on Sunday, Jan. 28, 2018, live from Madison Square Garden in New York and broadcast on the CBS Television Network from 7:30–11:00 p.m. ET/4:30–8:00 p.m. PT.
"I'm inspired by this year's nominees and the incredible talent each possesses," said Neil Portnow, President/CEO of the Recording Academy. "Their recordings are a true testament to how creatively alive and meaningful our music industry has become. Each nominee uses their craft to inspire, uplift, and tell stories of our world through their artistry. They provide a vibrant soundtrack that represents the highest level of excellence and continues to impact and reflect our culture."
"The beauty of our process begins and ends with the participation of music professionals," said Bill Freimuth, Recording Academy Senior Vice President of Awards. "Our nominations reflect the expertise and passion of Recording Academy voting members."
The Recording Academy represents the voices of performers, songwriters, producers, engineers, and all music professionals. Dedicated to ensuring the recording arts remain a thriving part of our shared cultural heritage, the Academy honors music's history while investing in its future through the GRAMMY Museum®, advocates on behalf of music creators, supports music people in times of need through MusiCares®, and celebrates artistic excellence through the GRAMMY Awards—music's only peer-recognized accolade and highest achievement. As the world's leading society of music professionals, we work year-round to foster a more inspiring world for creators.