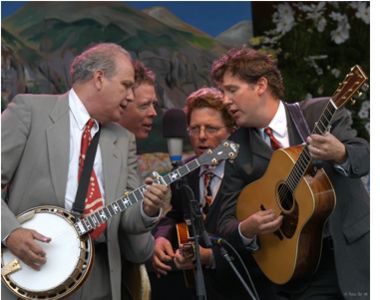 Hot Rize, one of bluegrass music's most beloved and influential bands, will kick off their 40th anniversary year-long celebration with a run of special SOLD OUT shows featuring special guests at the Boulder Theater. Since the Boulder Theater run sold out so quickly, they have decided to add a third date at the venue, tickets are on sale today. The three-night stand will be recorded for video and audio to be released throughout the year. The band takes to the road in January and February, touring the west coast and the northeast, and looks forward to a year of reaching new listeners as well as revisiting fans nationwide from its forty-year history.
In 1978, when Tim O'Brien, Pete Wernick, Nick Forster and Charles Sawtelle came together as Hot Rize, their chemistry generated an exciting and soulful new style of bluegrass, showcasing their formidable talents as instrumentalists, songwriters, and innovators. Grounded in the bluegrass traditions of artists like Bill Monroe, Flatt & Scruggs, and the Stanley Brothers, their musical tastes embraced other American roots pathways as well. Honing their sound in Colorado bars and small concerts, they were soon appearing on A Prairie Home Companion, the Telluride Bluegrass Festival, the Grand Ole Opry, and European tours. The world was ready for Hot Rize -- and forty years later Hot Rize has left its unmistakable mark.
Their original songs are part of the bluegrass canon, their showmanship earned them the first-ever Entertainer of the Year award from the IBMA, and their "partnership" with Red Knuckles and the Trailblazers is...nearly indescribable. There is no other band like Hot Rize, and many bands that followed have cited them as a major influence.
Following Charles Sawtelle's untimely death in 1999, the band regrouped with bluegrass' reigning flat picker, North Carolinian Bryan Sutton on guitar. Since 2002, Hot Rize's unparalleled all-star lineup has held steady and continues to create new and inspired music.
Don't miss your chance this year to celebrate with one of America's most revered bands as they tour across the US.
January 12 - 13 - Boulder Theater - with Sam Bush, Jerry Douglas, Del McCoury, Stuart Duncan and more to be announced.
January 14 – Boulder Theater - with special guests to be announced. Tickets on sale Friday, Nov. 17th.
January 17 - Triple Door, Seattle, WA
January 18 - Aladdin Theater, Portland, OR
January 19 - Humboldt State University, Arcata, CA
January 20 - Freight & Salvage, Berkeley, CA
February 15 - The Colonial Theatre, Phoenixville, PA
February 16 - Barre Opera House, Barre, VT
February 17 - Swyer Theatre @ The Egg, Albany, NY
February 18 - Joe Val Bluegrass Festival, Framingham, MA
More dates to be announced soon.
For more information and to follow the growing tour schedule visit www.HotRize.com [1].