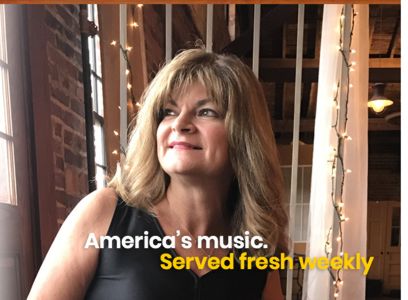 Bell Buckle Radio is very excited to announce that Cindy Baucom's, "Knee Deep in Bluegrass" has joined their program schedule at Bell Buckle Radio. Bell Buckle Radio is an online internet radio station broadcasting from historical Bell Buckle,TN. The station offers a large range of music in bluegrass, classic country, folk, gospel and Americana. Bell Buckle Radio believes in a unique and customized experience when listening to music.
Valerie Smith is owner of both Bell Buckle Records and Bell Buckle Radio. Valerie has developed a unique style and sound that has rocked the bluegrass world for almost two decades with a string of national and international tours, critically acclaimed recordings, and Grammy, IBMA and Dove Award nominations. Val's vocals are impressive. She has a staggeringly expansive range and the ability to portray an amazing array of emotion. As NPR radio host Dave Higgs, has noted, "She can be sassy, sultry, siren-like, sweet, smooth, soothing and smoldering---sometimes during the span of just one song!" Valerie Smith and her East Coast-based band, Liberty Pike featuring legendary Hall of Famer , Tom Gray on bass, are consistent audience pleasers and skilled musicians. When Valerie walks onstage with her fabulous band, expect to be inspired, amused and thoroughly entertained.
For more than thirty years, Cindy has pursued her passion for Bluegrass Music as an award winning broadcaster, producer, promoter, singer, musician, writer, photographer and MC. Her national radio show, "Knee-Deep In Bluegrass", went into syndication in 2003 with distribution by the John Boy & Billy Radio Network. Now heard weekly in nearly a hundred radio markets, Cindy uses her knowledge of the music and enthusiasm to entertain and educate the listeners of her show.
Cindy was elected to the Board of Directors of the International Bluegrass Music Association and served two, 3-year terms consecutively, including one year as the IBMA Board's vice-chair. She was producer of the 2008, 2009 and 2010 IBMA Awards Show at the Ryman Auditorium, Nashville, TN.
Cindy has been involved with Merlefest since its beginning in 1988 and started serving as MC in 1990. Her MC work has taken her to a variety of stages and venues over the years.
She was producer on the 2011 Bluegrass release, "In A Groove" by her husband, Terry Baucom, bringing together some of the top names in Bluegrass for these recording sessions. She also produced the recording, "Never Thought of Looking Back", which yielded the 2013 IBMA Recorded Event of the Year, "What'll I Do", featuring Terry Baucom with Sam Bush, Jerry Douglas, Steve Bryant, Wyatt Rice and Buddy Melton.
She credits her early love for Bluegrass 100% to her father who played banjo, fiddle, guitar and mandolin and built stringed instruments. As a teenager she performed in a band with her dad and went on to work in other regional bands, singing and playing bass and guitar. She feels fortunate to have been presented the opportunities to promote the music she has loved all her life.
Cindy's "Knee Deep in Bluegrass" can be heard Thursdays at 5:00 PM - 7:00 PM CST and again Mondays at 3:00 PM - 5:00 PM CST.