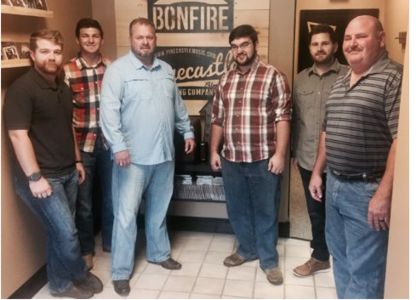 Gospel bluegrass band The King James Boys have signed with Pinecastle Records for an upcoming album to be released in 2018. The group began riding the circuit over 20 years ago and have recently had two songs on the Singing News Bluegrass Gospel Chart.
Legendary bluegrass gospel artist Paul Williams said, "I believe The King James Boys are the real thing, sincere, dedicated and committed to praising God through song and testimony, so... get ready for it, inspiration is on it's way from the first song until the last!"
Many radio DJs are already well acquainted with the band. WMMT Radio DJ Big Al Weekley said, "I was able to see the Boys perform live the first time at SPBGMA in Nashville last year where I was pleasantly surprised to hear that they sound just as good in person as they do on their recording. That's a rare achievement in any genre, especially bluegrass. I look forward to their next project with Pinecastle Records."
The King James Boys recently stopped by Pinecastle Record's headquarters to meet with Ethan Burkhardt and recorded an a-cappella performance video in the lobby.