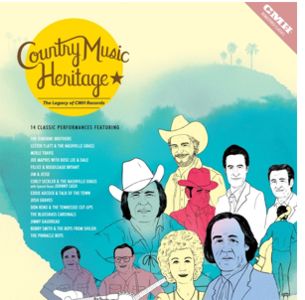 Nashville, TN -- Toni Swann-Pardigno, CMH, Director of Sales announced, "We are so excited for the release of Country Music Heritage: The Legacy of CMH Records. This album is particularly special to us as it represents the amazing artists and rich bluegrass music that has become such an integral part of our history at the label."
Toni continued, "Many thanks to Robert and Lynda Weingartz at AirPlay Direct for making it possible for us to share these special recordings with global radio. In a short period of time, AirPlay Direct has proven to be a wonderful asset! Since working with them we have expanded our reach to radio and media markets, and significantly grown the CMH Records brand."
The album contains track performances by Merle Travis, Jim & Jesse, Curly Seckler & the Nashville Grass with Special Guest Johnny Cash, Eddie Adcock & Talk of the Town, Josh Graves, Don Reno & the Tennessee Cut Ups, The Bluegrass Cardinals, Jimmy Gaudreau, and more.
Encapsulating tracks from 1975-1992, Country Music Heritage: The Legacy of CMH Records tells a story about a little, independent country label tucked away in sunny Southern California.
Founded in 1975, CMH Records has put out albums from some of the most iconic artists and musicians in country, bluegrass, and roots music. This record is a collection of songs, many of which were early, important cuts for the label, while others have yet to see the light of day in the digital era.
AirPlay Direct is the premiere digital delivery / distribution company, brand and platform for engaging radio and airplay worldwide. AirPlay Direct is a professional B2B music business environment for artists, labels, publishing companies, radio promotion firms, PR / Media firms, etc.
AirPlay Direct currently has 11,000 radio station members in 90+ countries and serves over 42,000 artist / label members globally on a daily basis. AirPlay Direct currently operates and services the largest global independent radio distribution network in the world with respect to Americana, Bluegrass, Folk, Blues, Alt. Country, Roots Music, etc. AirPlayDirect.com