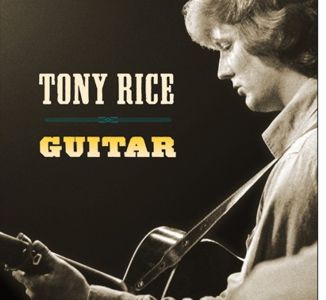 Rebel Records offers Tony Rice's landmark 1973 debut recording
Tony Rice - Guitar
once again on CD complete with updated artwork, previously unpublished photos and new notes by bluegrass historian and J.D. Crowe biographer Frank Godbey.
Guitar was Tony Rice's first album. At the time of its recording, no US label was interested enough to issue the record stateside, so a couple of duly impressed Japanese fans released the LP in Japan. Later, as a member of J. D. Crowe's Kentucky Mountain Boys (along with his brother Larry Rice and Bobby Slone), Tony became a phenomenon in the States and the rights to the record were bought out by Rebel Records, where the album has remained a favorite over the years. With Tony in fine form vocally and his always amazing guitar work, this is where you will find his signature versions of "Freeborn Man," "Doin' My Time," "Nine Pound Hammer" and "John Hardy," plus his nine-minute tour-de-force rendition of closing track "Lonesome Reuben."
Tony Rice is an American guitarist and bluegrass musician. He is perhaps the most influential living acoustic guitar player in bluegrass, progressive bluegrass, newgrass and flattop acoustic jazz. He was inducted into the International Bluegrass Music Hall of Fame in 2013. No guitarist in at least four decades has left such an indelible mark on bluegrass music and hard-driving guitar performances than Tony Rice. Rice is comfortable in a broad range of other musical styles also. As an American acoustic guitar master and legend, his style has been the benchmark that others have tried to emulate and achieve. Students and scholars alike have studied his style, technique, method and the dexterity of both hands as they evolve and mature in their own playing.
Rice's music spans the range of acoustic from traditional bluegrass to jazz-influenced New Acoustic music to songwriter-oriented folk. Over the course of his career, he has played alongside J. D. Crowe and the New South, David Grisman (during the formation of "Dawg Music") and Jerry Garcia, led his own Tony Rice Unit, collaborated with Norman Blake, recorded with his brothers Wyatt, Ron, and Larry, and co-founded the Bluegrass Album Band.
The critically-acclaimed authorized biography of bluegrass Hall of Fame member and living legend Tony Rice, titled Still Inside: The Tony Rice Story, has been completed by Tim Stafford and Hawaii-based journalist Caroline Wright, and was published by Word of Mouth Press in Kingsport, Tennessee, United States in 2010. This volume offers a great insight into the artist and his music.
Tony has been having health issues from losing his voice some years back to today's arthritus condition which makes it impossible for him to play.
The album is available at Rebel Records [1].