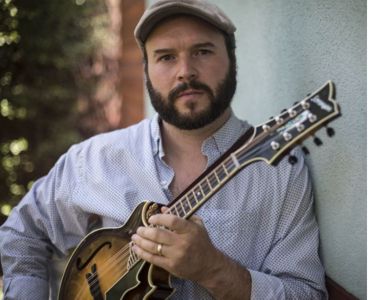 Los Angeles, CA -- Craig D. Ferguson hits the road this week with his new Sorensen Sprite Two-Point Mandolin and the west coast bluegrass band Hot October for a string of performances including the honorable "Freight & Salvage" in Berkeley, CA. The band will also perform at Redwood Curtain Brewing Co., the Mateel Annual Humboldt Hills Hoedown, and make a few live appearances on local radio favorites KHUM and KMUD.
The 2015 Arizona State Mandolin champion is thrilled to share the rich tone and gorgeous look of the master built mandolin by Steve Sorensen and his Santa Clarita, California-based Sorensen Mandolin & Guitar Co. At a casual meeting at Sorensen's booth at Father's Day Festival in Grass Valley, California, Craig played all the mandolins in the Sorensen line but says, "I kept coming back to the Two-Point. It's taken my playing to another level." In additional to performing live with the Two-Point, it will also be featured on Hot October's forthcoming full-length
Check out their most recent video release from the web series Chevy Van Sessions featuring the Sorensen Sprite, an original song by vocalist and fiddler Jesse Olema titled "If I Knew Your Name".
album.
Hot October Album Release Tour:
9/21 - Freight and Salvage - Berkeley - 7pm
9/22 - KHUM Radio Live - www.khum.com/player [1] - 3pm
9/22 - Redwood Curtain Brewing - Arcata - 8pm
9/23 - KMUD Radio Live - www.kmud.org [2] - 5pm
9/23 - Persimmons Cafe - Redway - 7pm
9/24 - Humboldt Hills Hoedown - Redway - All day
9/25 - House Concert - Mill Valley