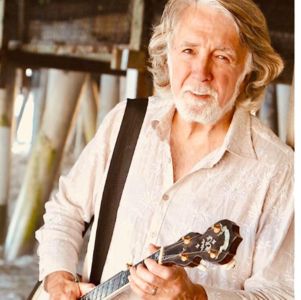 Nashville, TN -- John McEuen, one of the founding members of the Nitty Gritty Dirt Band (NGDB), has announced his immediate departure from the iconic group. Stating "enough is enough," McEuen exits upon the conclusion of the NGDB 2017 tour in Fargo, ND - Sunday 10/22/17, marking the end of the band's 50th year anniversary. McEuen's decision to exit NGDB comes upon careful considerations and contemplation. "In assessing the situation surrounding our performances, business disagreements and ongoing difference of opinions, the timing is appropriate for my departure. As a catalyst to my decision, in December 2015, I received confirmation from Nitty Gritty Dirt Band, Inc. that I was an 'employee'-- no longer a member of the corporation that I helped to build," stated McEuen.
McEuen was instrumental in the NGDB band formation in 1966 and has celebrated groundbreaking and historical success alongside his counterparts over the past 50 years for the group's significant contributions to the expression and expansion of American music worldwide. McEuen is most-widely recognized for his signature talents as "an extraordinary, multi-instrumentalist;" he has recorded more than 30 NGDB albums and created a lasting legacy for his seminal work on the Will The Circle Be Unbroken album, which McEuen initiated in 1971. Circle has been noted as "the most important record to come out of Nashville" by Rolling Stone and "the most important record in country music" (ZAGAT Survey/2004).
"It has been a great privilege to work alongside the others; together, we made history. After 50 years, the time has come for me to bid adieu to the Nitty Gritty Dirt Band stage," said John McEuen. "I will move forward with great pride in my personal and musical contributions to NGDB and now can fully concentrate on my independent endeavors. I have much to do and many more creative ideas to pursue. Because of this relationship, I have more stories than you can shake a pick at. (…That will come later!)"
McEuen commented, "I'm excited about my upcoming touring with my Deering Banjos which you can find on http://www.johnmceuen.com/calendar.html [1]. A lot of beautiful Performing Arts Centers and festivals are already booked! Many concerts will be multi-media shows - music and stories with historic footage from Will the Circle Be Unbroken. We feature some of the music from my new highly acclaimed Made in Brooklyn album (Stereophile magazine Record of the Month!) – It is different every night. Some nights we will have special guests sitting in. Thank you all for your years of support and I'll see you down the road."
McEuen has enjoys his successful solo career and has six albums to his credit; his most recent (Made In Brooklyn - named "Record of The Month" by Stereophile Magazine/2016) received rave reviews from fans and music critics alike (No Depression, Cybergrass, Elmore Magazine and numerous others). In continuation, McEuen has assembled an exquisite band of talented musicians to join him: Les Thompson (original founding NGDB member), John Cable (NGDB alumnus) and Matt Cartsonis. The foursome has created a multi-media show catering to some of the country's most breath-taking Opera houses and performing arts centers. He was recently inducted in the American Banjo Museum Hall of Fame.
Over the course of his 50-year career, multi-instrumental "String Wizard," John McEuen has performed more than 9,500 concerts, covering more than three million miles globally with the Nitty Gritty Dirt Band and as a solo performer. McEuen has recorded over 40 albums (six solo) --four platinum and five gold--garnering awards that include GRAMMYs, Emmy nominations, CMA and ACM awards and IBMA Record of the Year honors. John McEuen is a member of the American Banjo Museum Hall of Fame.
Beyond performing, McEuen has produced more than 300 concerts throughout his career (the first in 1965 in Long Beach Calif. with Bob Dylan). In 2010, his record production of THE CROW (Steve Martin) won a GRAMMY for "Best Bluegrass Album."
McEuen has a rich history in creating, producing and preserving original, traditional folk and acoustic music and taking it to new audiences. McEuen's The Music of the Wild West was honored with the Western Heritage Award; he scored a GRAMMY nomination for String Wizards II and earned the Uncle Dave Macon Award for "excellence in preservation and performance of historic music."
John is show host of the popular "Acoustic Traveller" radio show on Sirius/XM's The Bridge (now in its 8th year) and is the CEO of Syndicatednews.net, a music and political news website.
Visit www.JohnMcEuen.com [2] for more information.