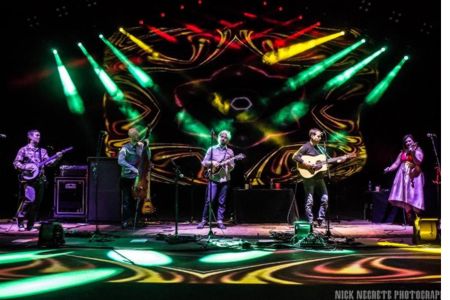 Progressive bluegrass heroes Yonder Mountain String Band-who released the critically acclaimed Love. Ain't Love album earlier this summer-have confirmed an array of headlining and festival dates for this fall and into 2018. The shows, with special guest The Last Revel, kick off October 26 in Iowa and run through December 2, and are followed by the Strings & Sol Festival in Mexico.
The Colorado-based band-Adam Aijala, Dave Johnston, Ben Kaufmann, Jacob Joliff and Allie Krall-formed in 1998 and have released 11 studio and live albums since, including three #1 Bluegrass Albums chart-toppers. Rolling Stone said Love. Ain't Love is "an album rooted in modern bluegrass and punctuated by genre-jumping excursions into world music, reggae and all points in between" and premiered the video for the album's first single, "Bad Taste," here. Talking about the song "Take A Chance On Me," Taste Of Country said, "Funky' is just about the last word you'd expect to use to describe bluegrass, but Yonder manage to incorporate a funky groove with a sweet pop vocal hook and sunny vocal harmonies that would be right at home on mainstream pop radio for a track that is delightfully unexpected."
"Nothing feeds my sense of adventure or creates that charge in the atmosphere like our fall tour," says Dave Johnston. "It's sort of like a point of view you get to experience, one of the year that has flown by, the rooms, hallways and landscapes. It's ravenous and determined, a series of good times that will leave you both full and wanting more."
Laced with interstitial dialogue, music, sound effects, and other overlapping ephemera, Love. Ain't Love is by design Yonder's most ingenious studio collection thus far. Songs like "Take A Chance On Me" and the heavy metal-inspired breakdown, "Fall Outta Line," see the quintet touching upon FM pop, country rock, funk, world music, and so much more; adopting traditional sonic and lyrical idioms to mask deeper and darker personal truths. "It's a little more eclectic," Aijala says. "None of us grew up with bluegrass so there are always other influences in there. I think this record is a bit more reminiscent of our live show, with different genres and different types of songs."
On "Love. Ain't Love", Yonder Mountain String Band finds plenty of new twists on the way to making a stellar record. Their previous release, Black Sheep, served as an introduction to the newest members of the group and the energy their new band configuration brought to the group. With the niceties out of the way, Yonder innovates, expands, and evolves on their newest release, crafting an album that will leave fans - lovingly known far and wide as the "Kinfolk" - shell-shocked and grinning.
~ Live For Live Music
"Love. Ain't Love" is a collection of tracks that expertly blends strongly-themed lyrics with high quality picking that fans have grown accustomed to expect from this iconic outfit. Yonder Mountain continues to impress listeners and show the bluegrass world why they are one of the top acts in the genre today.
~ Mother Church Pew
Take a Chance on Me" is a prime example of how Yonder Mountain String Band are able to juxtapose different musical forms into a cohesive whole. "Funky" is just about the last word you'd expect to use to describe bluegrass, but Yonder manage to incorporate a funky groove with a sweet pop vocal hook and sunny vocal harmonies that would be right at home on mainstream pop radio for a track that is delightfully unexpected. They top off the track with impressive solos that demonstrate advanced instrumental ability without being overly showy.
~ Taste of Country
Website - http://yondermountain.com/ [1]
Facebook - http://www.facebook.com/yondermountain [2]
Instagram - https://www.instagram.com/yondermountain/ [3]
Twitter - https://twitter.com/yondermountain [4]