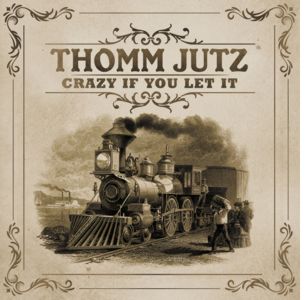 Willis, VA -- Mountain Fever Records is elated to announce the release of Crazy If You Let It, the new album from singer, songwriter, producer, and guitarist Thomm Jutz. The album has already received generous airplay on radio worldwide and is available to consumers everywhere today.
Jutz's debut album for Mountain Fever Records is a quintessential compilation of everything that makes him a well-rounded, endearing musician. His songs and the delivery of them are real and simple, yet poignant. "I've always been in love with bluegrass music," stated Jutz in a recent interview for Country Music People. "I obviously didn't grow up in that culture but it's the kind of music that's really dear to my heart and everything I've done always has a very strong acoustic vibe to it."
Sonically, Crazy If You Let It is pleasing to the ears. Emotionally, it's touching to the heart. From the opening title track to the emotive "It Was You," Jutz takes the listener on a journey that finds one closing their eyes and getting lost in each and every note along the way. Imagine a train ride through the country side and finding yourself visiting Georgia, North Carolina, and Ireland, with a jump back in time to the Old Testament alongside Jeremiah the Prophet. All is accomplished within the 12 track makeup of Crazy If You Let It. For this particular project, Jutz called on his dearest friends for support. And with friends such as Sierra Hull, Justin Moses, Andrea Zonn, Tammy Rogers, Mark Fain, Peter Cooper, and Eric Brace, Jutz couldn't possibly end up with anything other than a spectacular masterpiece of art in music form.
Crazy If You Let It Track Listing:
"Crazy If You Let It" (with Andrea Zonn)
"Crossing Over Black Mountain"
"Confederate Jasmine"
"Run With The Horses"
"White Water Train"
"Old Railroads" (with Tammy Rogers)
"Sometimes What Glitters Is Gold"
"The Coast Of Carolina"
"The Road To Galway"
"Lily Of The Day"
"Atlanta" (Please Don't Let Me Down)
"It Was You"
Crazy If You Let It is available today to radio programmers via AirplayDirect or by emailing radio@mountainfever.com [1] for a digital download. Consumers may purchase the album through various music outlets. For more information on Thomm Jutz, please visit www.thommjutz.com [2]. For more information on Mountain Fever Records, visit www.MountainFever.com [3].
In Nashville, there are countless tales of extraordinary creativity, talent, and determination unfolding everyday. But even in a city known for its creative, talented, and determined citizenry, Thomm Jutz is standing out.
He can't help it. His name is right there, on the songwriting credits of four #1 bluegrass hits since April, 2016. And his name is on nine other top-20 bluegrass songs over the same period.
That name -- Thomm Jutz – is also right after the word "Producer," on more than twenty albums over the past five years. Albums by Country Music Hall of Famer Mac Wiseman, folk legend Nanci Griffith, fabled country-punk Jason Ringenberg, Grammy-nominated duo Eric Brace & Peter Cooper, Otis Gibbs and many more, all recorded at his own TJ Tunes Studio just outside Nashville.