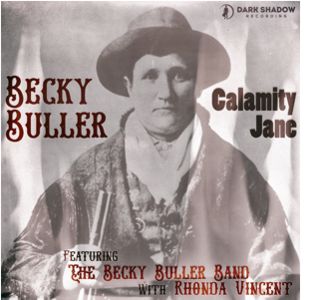 Nashville, TN -- New music is out to radio today from reigning IBMA Fiddler and Female Vocalist Of The Year Becky Buller with help from the Queen Of Bluegrass, Rhonda Vincent. "Calamity Jane", the second single from Buller's upcoming Dark Shadow Recording release, Crêpe Paper Heart, is a co-write by Buller and Blue Highway's Tim Stafford about the notorious American frontierswoman Martha Canary.
"I've been a Blue Highway fan since their very first album," said Buller. "Tim is a songwriting hero of mine; I learned to write, in part, by studying his songs. I'm stoked whenever we have a chance to write together and especially that I got to write an outlaw song with him. (He's kinda known for his outlaw songs.)"
"What fun it was to write this with Becky!" said Stafford. "Since I had written a song about Wild Bill Hickok ("Wild Bill"), I guess it was a logical collaboration. This one is wide open and I love how Becky captured that feeling of a wild horseback ride, chasing after Miss Canary down the plains...'Jane ain't even your name, Jane!'"
Loved singing with Becky! She's a performer who is powered by tremendous creativity and a uniqueness that is unmatched.
 ~ Rhonda Vincent
Past and present members of the Becky Buller Band provided instrumental support on this track as well as the bulk of the new album. They are: Daniel Hardin (bass); Prof. Dan Boner (mandolin); 2017 IBMA Momentum Award nominee Brandon Bostic (guitar); and 2017 IBMA Banjo Player Of The Year Award nominee Ned Luberecki (banjo) with Stephen Mougin as producer and engineer.
DJs can access "Calamity Jane" via AirPlayDirect [1]. For press inquiries or for DJ access to the track via another delivery service, please contact Jana Mougin at pr@darkshadowrecording.com [2].
Dark Shadow Recording is a record label and full-service studio run by a musician for musicians in the Bluegrass, Americana and Folk genres. Stephen Mougin (2016 IBMA Mentor Of The Year) offers everything from song demos and tracking to producing/engineering and recording services. Visit DSR online at: http:/darkshadowrecording.com.