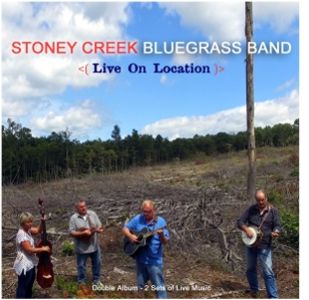 Martinsburg, WV - Stoney Creek Bluegrass Band has released a new single and music video for "The Traveling Song". The track is the first single from the band's new double live album,
Live On Location
. "The Traveling Song" is available to radio broadcasters through AirPlay Direct. The music video, featuring West Virginia's mountain scenery and a touch of vaudeville humor, can be viewed on Stoney Creek's
Website
,
Facebook
and YouTube pages.
Live On Location will be available from Calv'ry Music on Sept. 29. Stoney Creek will be premiering a live stream of the album as a Facebook Live Event on Sept. 24 at 4:00 p.m. (ET). The stream will be replayed on Oct. 1.
The album contains five original compositions, including the instrumental "Antietam Turnaround" by banjo player Troy Stangle. Guitarist Kenton Catlett contributes four original songs. In addition to "The Traveling Song," Catlett also wrote "Thirty Years," "When the Sun Goes Down," and "Fast Train"(co-written with late country artist Gib Sage). The rest of the album is rounded out by traditional and gospel bluegrass staples from the band's live shows, such as mandolin player Brett Smeltzer's take on "I'm Working on a Building," "Are You Washed in the Blood?" and many more.
"These CDs really turned out great," said Smeltzer. "I think this project will go over great with anyone who purchases or hears it on the air."
Stoney Creek will be celebrating the release of Live On Location with performances at Orr's Farm Market's Fall Festival in Martinsburg, W.Va. on Sept. 23 and 24, and at the Outer Banks Bluegrass Island Festival in Manteo, N.C. on Oct. 4.
Stoney Creek's live show and sound system have been entertaining audiences for years, prompting Around the Pandhandle magazine to name the band "West Virginia's classic bluegrass band." Stoney Creek features an updated and high energy approach to traditional bluegrass, which Bluegrass Unlimited praised as "mainstream bluegrass at its best."
The Live On Location concept developed in 2016. Stoney Creek had been recording two-track stereo mixes from the band's soundboard for several years, and band members expressed interest in making some of these available to fans. In late 2016 and early 2017, the band brought out a studio multi-track console to record a series of public and private shows, adding extra microphones to capture the audience as well. The double album features two complete sets from Stoney Creek's live performances. The project was recorded and mastered without compression, to preserve the full dynamic range of the performances. As a result, the album is a few decibels quieter than most recordings from the past few years (including Stoney Creek's previous albums), but the improved sound quality should be noticeable to careful listeners. Live On Location captures the band's long-standing commitment to bringing near-studio quality sound to live concert audiences.
"It almost sounds like a studio album," said bassist and founder Libby Files upon hearing the playback.
"It sounds live," said Catlett. "It is a live recording and I think it is just fine."
Live On Location also captures a recent phenomenon at Stoney Creek shows - the dancers. This trend began occurring on a regular basis in 2017 and has been encouraged by the band. One goal for this album was to include the audience, and the double album is ultimately a tribute to the fans.
"This might be the best Stoney Creek project yet," according to Stangle.
Live On Location will be available through most online digital music services, and as a two CD set from retailers such as Amazon, Walmart, Target and CD Baby. The project will be available to retailers through Alliance Entertainment. The album can be purchased directly from the band's website, www.stoneycreekbluegrass.net [3], which also features links to retailers and digital services.
Track list for Live On Location:
CD Disc 1

"Ladies and Gentlemen" (Introduction)
"Those Memories of You"
"The Traveling Song"
"Cold Sheets of Rain"
"Thirty Years"
"Beyond Those Gates"
"Why Don't You Tell Me So?"
"Just Like You"
"Are You Washed in the Blood?"
"Little Cabin Home on the Hill"
"Antietam Turnaround"
"I'm Working on a Building"

CD Disc 2

"I'm Lost and I'll Never Find the Way"
"Kentucky Borderline"
"Fast Train"
"When the Sun Goes Down"
"Shadows in My Room"
"Crying Holy"
"Just Someone I Used to Know"
"Blue Ridge Cabin Home"
"High Lonesome Sound"
"Nashville Skyline Rag"
"Freeborn Man"