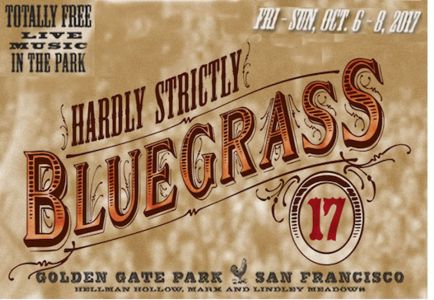 Now in its 17th year, the free and large Hardly Strictly Bluegrass Festival held in San Francisco's Golden Gate Park has announced the lineup for this year's event. The free Hardly Strictly Bluegrass festival is a gathering featuring over 90 acts on 7 stages performing over 3 days. This year's event is to honor Patricia Christina "Chris" Hellman – artist, ballerina, philanthropist and wife of Hardly Strictly Bluegrass founder Warren Hellman. Chris Hellman passed away on Saturday, February 4th of this year. Warren passed away December 18, 2011.
This 17th year of the free festival is a great tribute to Warren Hellman who passed away two years ago. Hellman presented the festival to San Francisco as a gift of thanks to the community and as a way of giving back. This year's grand event will take place October 6, 7, & 8, 2017. Hardly Strictly Bluegrass is a family-friendly festival. Children and on-leash dogs are welcome but they should be comfortable with large crowds and loud music.
Hardly Strictly Bluegrass has announced the lineup for their 17th festival:

FRIDAY OCT 6 (Noon - 7pm)

Chuck Prophet & The Mission Express, Molsky's Mountain Drifters, Brandi Carlile, Tracy Blackman, Conor Brings Friends for Friday featuring: Mega Bog, Jesse Harris, Big Thief, The Felice Brothers, First Aid Kit, Conor Oberst, Billy Bragg, The Sam Chase & The Untraditional , Foy Vance, Drew Holcomb and The Neighbors, T Bone Burnett, Dry Branch Fire Squad, Terri Hendrix with Lloyd Maines , The Bo-Keys featuring Don Bryant and Percy Wiggins, Seun Kuti & Egypt 80, Laurie Lewis & The Right Hands

SATURDAY OCT 7 (11am - 7pm)

Hardly Strictly Silent Disco featuring Ren the Vinyl Archaeologist, Steve Fabus, Deejay Theory, Tom Thump, DJ Phleck, DJ Tobiwan, Motion Potion, U9lift, Peter Rowan Dharma Blues featuring Jack Casady, Justin Townes Earle, The Brothers Comatose, The Wood Brothers, Poncho Sanchez, Bela Fleck & Abigail Washburn, Dan Auerbach, Nancy & The Lambchops, Buddy Miller's Cavacade of Stars featuring Gurf Morlix, Bill Anderson, Lillie Mae, Dan Penn, Buddy Miller with The War and Treaty, Tyler Childers, Patty Griffin, Alison Brown & the Compass Bluegrass Allstars featuring Bobby Osborne, HSB Blues Revue featuring Sugar Ray Norcia, Annie Sampson, Chris Cain, Steve Freund, Austin deLone, Ruth Davies and Tony Braunagel, Sturgill Simpson, Willie Watson, Midnight North, Robert Earl Keen, Robyn Hitchcock, Ozomatli, Henry Rollins, Gillian Welch, The Go To Hell Man Clan, The Nth Power, Sam Outlaw, Moonalice, Tim O'Brien Band, Rising Appalachia, Blackfoot Gypsies, Colter Wall, Reed Mathis & Electric Beethoven, Jamey Johnson, Steve Earle & The Dukes

SUNDAY OCT 8 (11am - 7pm)

Ornette's Prime Time Band Reunion featuring Jamaaladeen Tacuma, Al MacDowell, Charlie Ellerbe, Badal Roy, Denardo Coleman with Special Guests David Murray, Wallace Roney & Marc Ribot , Lampedusa featuring Steve Earle, Patty Griffin, Emmylou Harris, Buddy Miller, Lucinda Williams, Norbert Putnam and Friends, Dave Alvin & The Guilty Ones, Randy Newman, Ciaran Lavery, Kane Welch Kaplin, Lukas Nelson & Promise of the Real, Bob Mould Band, Weyes Blood, The Flatlanders, Sisters Morales, Hot Tuna Electric, Jon Langford's Four Lost Souls, Hardly Strictly Silent Disco featuring 4NR, Gordo Cabeza, DJ Alarm, Mophono, DJ Tyme, King Most, Motion Potion, Jello Biafra, Emmylou Harris, The Well Known Strangers, Marco & The Polos, Cheap Trick, The Secret Sisters, John Prine, The Brothers Gibb, Poor Man's Whiskey, Aaron Lee Tasjan, Lila Blue, Jade Jackson, Tyler Childers, Courtney Barnett & Kurt Vile (and the Sea Lice), Shelby Lynne & Allison Moorer, Will Durst, The Sons Of The Soul Revivers, Lucinda Williams, Ghost of Paul Revere, Big Freedia, Junior Brown
Visit http://www.hardlystrictlybluegrass.com/2017/ [1] for all the information about this outstanding festival.