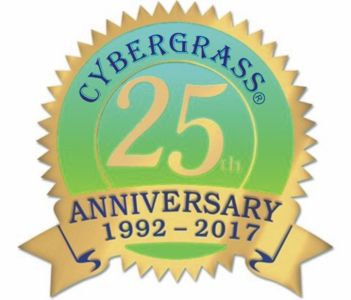 On Friday, September 9th, Cybergrass celebrated 25 years of promoting bluegrass music on the world wide web. What started out as a learning and research project has evolved into one of the most popular bluegrass web sites in the world. Cybergrass, the world's oldest music and bluegrass music web site, changed over to a new format a few years ago. The site continues to grow even with all the thousands of other bluegrass sites on the web. What a wonderful way to celebrate a quarter century of bluegrass information on the web!
Bob Cherry, owner of Cybergrass, credits the site's popularity and growth because of the vision of the site. The site has a history of "firsts" on the web and certainly in bluegrass. He's actively been promoting bluegrass music for 25 years and that is a great achievement to Cybergrass and a wonderful service to the bluegrass community. Cybergrass has published over 45,000 articles on line, including reviews, artist profiles, events and other content since it was created.
Cherry notes that it was interesting that the small little genre of bluegrass music would be the first music site and the fact that it was some time before another music site of any kind appeared on the web. Of course, back in those days, the only people on the web were researchers and people with access as it was still the Research Internet and not yet really a public utility as we see today. Bluegrass was popular in regions of research such as the San Francisco area, Colorado, California and even New York -- all places that Cherry lived and worked in.
The site was one of the first 10 sites on the World Wide Web and has been in operation for a quarter century. Started on September 9, 1992 as a text only site, Cybergrass has matured over the years to an international award winning site. The site has had five major facelifts and many web addresses since it was created. Cherry also created the original IBMA and IBMM Web sites. As the web's growth was unfolding, He also helped many others get started on the web and many of those sites are still operating today.
His site was first hosted on a Xerox research server that ran on a DEC Vax running BSD Unix. The first content was text only and consisted primarily of the Digital Tradition [1] song files which he had stored on 8 inch floppy discs in text format. Today, Cybergrass is hosted on a service that provides connections to all major backbone internet providers and provides 24x7 support. In 25 years, his site has only been down a few times and never for more than a few hours.
Cherry wanted to put music cuts online with his reviews. After many calls and conversations, he set out to get an Internet music license. ASCAP flat out refused him but BMI put him in touch with a VP in the New York office. Thus, he had the first limited music license on the web. After a bit of back and forth, Bob and Cybergrass received a BMI license for Internet music. He carried music on Cybergrass until DMCA was written and the terms of that license were not agreeable so all music was removed from his site.
In a fluke of circumstances, while his site was as Infonet Services Corporation on a Sun server, another web pioneer was committed to running the Grammy Awardss online. At the last minute a snag happened and he called Bob. Bob had a spare server, an 1-800 rotary ISDN capability to handle 32 simultaneous inbound connections and high bandwith to the internet. Bob installed the software and ran that first awards show webcast on his backup server. The following year, he started carrying the IBMA Awards Show and was the only site to do so for almost a decade.
Just a few of the accomplishments and achievements of the site are:
The first music web site (September 9, 1992)
The first bluegrass web site (September 9, 1992)
The first web site to carry a music awards show (Grammys)
The first web site to carry the IBMA awards show
The first web site licensed (BMI) to carry music on the net
The first web site to have a free, event calendar online
The first web site to carry artist profiles
The first web site to carry daily bluegrass music news
The first web site to syndicate bluegrass content
The first web site to carry bluegrass news from others
The first bluegrass blog
The first bluegrass News Network online - BMNN
Over the past years, his Cybergrass site has received awards including the New York Times best bluegrass site, SoftQuad's International Metalworker's finalist three years in a row, Main Street Earth Award, Sound Bits and Bytes site, Select site for Omega, Whole Internet Catalog, Magellan Review and Excite.
Cherry said the years on the web has been exciting and rewarding. He's not sure what will be around the next bend but he's sure that once again, the future will be fun and exciting. Cherry has over 40 years of information technology experience in research and engineering and holds patents on the Optical Mouse, Satellite Broadcasting System, and Low-Noise Active VLSI Testing. He has been published by the International Symposium on Test & Failure Analysis, Library Journal, EDGE and other professional publications.
Cybergrass has grown and evolved based largely on reader input. It has exceeded all of the initial expectations for the site. Cherry would like to see more forum activity and comments on the articles but when its a hot article or subject, people do respond and almost always favorably. The future should be just as exciting as the world of the Internet is still unfolding.
So today, Cybergrass celebrates its Silver Anniversary and begins its journey towards more years on the Internet.