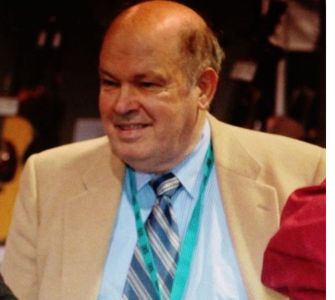 Bluegrass contributor and co-founder of Bluegrass Unlimited magazine, Pete Kuykendall has passed away. He was 79 years old. Pete passed away in his sleep Wednesday night in his sleep at a nursing care home where he has been for a while. Born January 15th, 1938 in Washington, D.C., Pete was a significant figure in the Bluegrass Music Community. Beyond his recognition with his magazine, he was also an instrumentalist, archivist, songwriter, radio announcer, band mate, recording engineer, producer, businessman, festival producer, and a major influence in bringing Bluegrass into the public's view in a positive manner. He was also instrumental in the creation of both the International Bluegrass Music Association and the International Bluegrass Music Museum.
Pete was partially responsible for bringing Bluegrass to the Washington D.C. music scene for two decades. He performed with The Country Gentlemen, Red Allen, Frank Wakefield & the Kentuckians. In the early to mid '50s, he also performed with the Log Cabin Boys and Benny & Vallie Cain & the Country Clan. Inducted into the Bluegrass Music Hall of Fame in 1996, his contributions to the music were highlighted including his abilities with the banjo as well as other instruments.
Pete was an driven innovator who started Bluegrass Unlimited in 1966 as nothing more than a newsletter. Joining him to get this project off the ground were Pete, Vince & Dianne Sims, Dick Freeland, Dick Sopottswood, Gary Henderson. After devoting four decades of his life to the magazine, he also became on of the music's biggest historians. He was involved in virtually every aspect of Bluegrass Music from the '50s until his passing. His contributions span over a half century of dedication, love, passion and drive for the music. It was not just in his blood, it was his blood. His entire professional life was centered around Bluegrass.
Through his early work in the music, through the radio years and his library years, Pete managed to build an extensive library of the music. Not only did he collect the music, he helped with its production and promotion. His basement studio was instrumental in the Rebel Record's release of a 4 record set of 70 songs. Others recorded there and his studio was active for many years covering Bluegrass, country blues and more.
One would be hard pressed to find any other single individual who contributed so much, over such a broad scope as Pete did in the past 60 some years. He left an indelible mark on the Bluegrass Music landscape that is immeasurable in value and importance. We lost more than just a man in his passing -- we lost a lot of the history that he held within his vast memories and contributions. He will be missed by those that knew him as well as many who never heard of him. His contributions were just that great.
We share our condolences with Kitsy and the entire Kuykendall family. May he rest in peace.