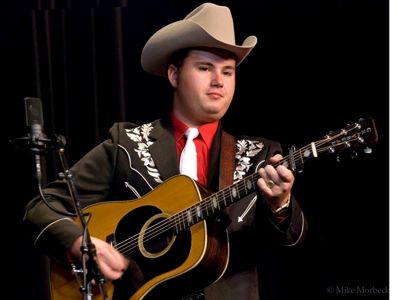 The Rural Roots Music Commission was formed a number of years ago, in Iowa, to find a way to honor excelling recording artists who deal with traditional old-time music, and many other traditional rural musical art forms. Since most traditional music genre's have now been locked out of participation at the national level in America, the Rural Roots folks found a way to honor these gifted musicians, vocalists, songwriters, recording artists and small production companies, by honoring them with 'CD of the Year' awards. One of the participants in this rather large 'gathering' of musical genres is Kody Norris of Mountain City, Tennessee.
This area of Tennessee is the extreme northeastern mountains, where Kody grew up listening to an abundance of old-time mountain music. He began his musical journey at the age of nine singing in local churches. By his teens, he was offered the opportunity to fill in tenure as lead singer and guitarist with Dr. Ralph Stanley and The Clinch Mountain Boys. By the time he was eighteen, he had established his own blend of traditional hard driving high lonesome bluegrass music. It wasn't long before he was a regular on the Chumberland Highlanders RFD-TV national television show. The RRMC are constantly looking for music very unlike the music called 'country' today, and hope to restore the original intent of the genre.
The Rural Roots Music Commission will be awarding Kody Norris his "Bluegrass CD of the Year" award for his CD "When I Get The Money Made" on the main stage during the 42nd annual National Old Time Music Festival in LeMars, Iowa, which runs Aug. 28-Sept. 3 at the Plymouth County Fairgrounds in LeMars, Iowa. That same stage, will also enjoy the presence of Dave Berg, the Executive Producer of NBC's national television program the Tonight Show, featuring Jay Leno. Berg will be emceeing main stage programs at the festival on both Friday and Saturday evenings. He is a strong supporter of advancing America's rural music through the Rural Roots Music Commission and the NTCMA. The RRMC is part of the National Traditional Country Music Association, which has been in existence since 1976. This is their 42nd year recognizing deserving individuals and groups that have continued the tradition of old-time and traditional music, no matter where they may be located.
The NTCMA was formed for that very reason, 'saving' America's old-time music. The music that traveled west in covered wagons as homesteaders settled the great upper Midwest, nearly all of it rural and farming land, and further. Farmers and ranchers they became, and they kept their beloved music with them. All of this early rural music came to America with its immigrants, many of their descendants still living in the upper Midwest farm land of Iowa, and all the way to the Pacific Ocean.
The NTCMA created a festival of old-time music in 1976, called simply the "National Old Time Music Festival." From small beginnings, today it is an event that lasts seven days, has ten stages to accommodate the more than 500 artists and performers that come from around the world, running from 9am to 11pm for seven days. It is acoustic in nature, meaning no electric guitars, drums, or any kind of loud amplified music that normally drowns out a milder, older, and certainly a more down-home style of entertainment. The 'Fiddler's Jubilee' the 'Harmonica Howl' the 'Guitar Pull' the 'Band Scramble' the 'Mandolin Jamboree' the 'Autoharp Gathering' and the 'Jamming' gatherings were created for those performers who are not scheduled for any of the stages. Anyone can participate. There are also workshops for beginners. It's a celebration of America's rural music heritage.
Some of the performers for this 42nd event, include: Terry Smith (Johnny Cash's songwriter "The Far Side Banks of Jordan"); Jeannie Seeley from the Grand Ole Opry, and Bobby Lewis, a lute player, also from the Grand Ole Opry; Dale Eichor a DJ Hall of Famer and singer; Greta Elkin the Queen of Country music from Ireland; Bobby Darren from RFD-TV; Glenn Tubb the nephew of Ernest Tubb; Dennis Stroughmatt a Ray Price tribute singer who also does old-time French melodies on his fiddle; David Davis and his Bluegrass Band from Alabama; The Harmonicats a still functioning harmonica band from the old days of live radio; Slim Forsythe from Pennsylvania who just received an Emmy for his PBS television show of old-time country music; Little Riddles a family old-time band from Minnesota; The Woodshop Band from Wisconsin; Gordon Wilcox a popular classic country singer from Canada; Wade Landry a Cajun fiddler from Louisiana; Emma Heyen a young country singer from China; Harry Rusk from Canada; Lee Muller a gifted vocalist and instrumentalist from Kansas; Carolina Express a Bluegrass band from North Carolina; Buck Helton a cowboy singer from Tucson, Arizona; Bob & Sheila Everhart, recording artists for the prestigious Smithsonian Institution in Washington DC; Luanne Hunt a classic country singer from California; Plum Tuckered Band from Iowa; Aspen Black and her daughter Alice from Virginia, Wolfe Milestone from Canada; the Jacob Austin Band from Texas; Lucy Jackson a mover and shaker for old-time music in Mountain View, Arkansas; Don Joy & Melanie Lynn duet singers of classic country from Missouri; Bryan Chalker a disc-jockey and top star recording artist from England; Marty Davis a cowboy singer from Oregon; the Kody Norris Bluegrass Band from Tennessee; Sky High & Rising Band from Tennessee; K. C. Groves & her Bluegrass Band from Colorado; Bart Hansen the long-time opening act for Loretta Lynn from Tennessee; Mike Johnson the nationally known black 'Yodeler" from Virginia; the Adam Knight award winning Gospel act from Tennessee; the Stangl Family (they have 10 children) from the ranchlands of Nebraska; Bernie Worrell a champion 'bones' player from Florida; plus hundreds of more gifted and talented performers from all over the United States as well as the world.
Recreational vehicle camping is allowed at this venue. It's a short walk to a nearby grocery store. Electric hook-ups and shared water cost $15 per night. Individual admission to the festival Mon-Thur is $20 per day per person; Fri-Sun is $25 per day per person. A special 7-day open-gate pass is available for $80 per person. All kids under the age of 17 are free. There is old-time style home-cooking at the food court, including Asian as well as Italian dishes, and American style food. There is a 5-star steak house on the grounds too.
America's Old Time Country Music Hall of Fame make their annual inductions during this event, and the Rural Roots Music Commission make their "CD of the Year" awards. There are six nights of old-time dances in the dance hall, and there is also arts, crafts, antiques, and a flea-market also on the grounds. The motto for the NTCMA Board of Directors is "Pick one day, or pick em' all, just keep pickin' and we'll see you at the festival.
More information is available from www.music-savers.com [1]