---
Uncle Shuffelo and His Haint Hollow Hootenanny at Fold Aug 5th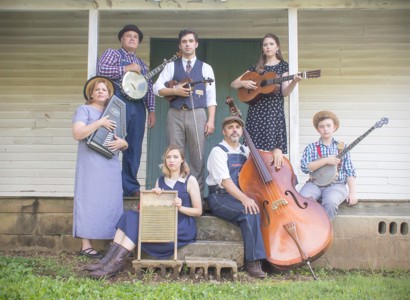 Hiltons, VA -- Saturday, August 5th, 2017, at 7:30 p.m., the Carter Family Fold in Hiltons, Virginia will present a concert of old time music by Uncle Shuffelo and His Haint Hollow Hootenanny. This weekend would normally be our annual Carter Family Memorial Festival, but it has been moved to the first weekend of November in honor of the release of the first Carter Family 78 record on the 4th of November in 1927. Our annual festivals in the future will take place the first weekend of November as well.
https://www.uncleshuffeo.com or their Facebook page https://www.facebook.com/Shuffelo/ [1] for more information.
http://www.carterfamilyfold.org or http://www.carterfamilyfold.com/ [2]. Shows from the Carter Family Fold can be accessed at http://www.carterfoldshow.com [3]. Partial funding for programs at the center is provided by the Virginia Commission for the Arts, the National Endowment for the Arts, and the Virginia Tourism Corporation. For recorded show information on the upcoming Saturday show at the Fold, call 276-386-6054. The Fold is on Facebook – page Carter Fold – and Twitter – @carterfoldinfo.
---
Source URL: http://cybergrass.com/node/5820
Links
[1] https://www.facebook.com/Shuffelo/
[2] http://www.carterfamilyfold.com/
[3] http://www.carterfoldshow.com
[4] http://cybergrass.com/taxonomy/term/5249
[5] http://cybergrass.com/taxonomy/term/21
[6] http://cybergrass.com/taxonomy/term/1448
[7] http://cybergrass.com/taxonomy/term/1970