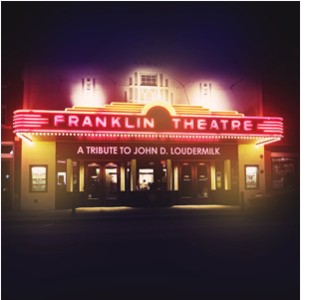 Nashville, TN -- One of America's most beloved songwriters will be honored September 15 with the release of the Vector Recordings album A Tribute to John D. Loudermilk. Among the more than two dozen musicians memorializing the composer of "Tobacco Road," "Abilene," "Then You Can Tell Me Goodbye," "Waterloo," "Indian Reservation," and "A Rose and a Baby Ruth" are Emmylou Harris, Rosanne Cash, Ricky Skaggs, Rodney Crowell, Doyle Lawson & Quicksilver and renowned guitarists Tommy Emmanuel and John Jorgenson. The evening was hosted by songwriter and music historian Peter Cooper.
A Tribute to John D. Loudermilk was recorded live March 24, 2016 during a concert at the Franklin Theatre in Franklin, Tennessee, near Nashville. Although ailing at the time, Loudermilk was on hand to witness this outpouring of love and respect. He died September 21 at the age of 82.
A film of the concert will be released as a PBS special.
Grammy-winning John Jorgenson produced the album and was musical director for the concert. Dixie Gamble, who organized the concert, is co-producer of the album and is overseeing production of the PBS special. A Tribute to John D. Loudermilk will be distributed by BFD in association with Sony/Red Distribution.
Loudermilk found inspiration for his songs in the raw material most people overlook—a lovesick teenager's peace offering, the magnetic pull of birthplace, the inevitability of personal failure.
In addition to hosting the live event, Peter Cooper was also tapped to write the liner notes for the project. "In life and love and song, Loudermilk hated moderation," writes Cooper. "He wasn't just a seeker of truth and beauty, he was a finder. He found it, he learned it, he kept it, and then he shared it with us seekers."
Equally adept at writing rock, pop and country hits, Loudermilk had songs recorded by the Allman Brothers, Edgar Winter, Jefferson Airplane, the Animals, Johnny Winter, Jerry Lee Lewis, the Casinos, the Everly Brothers, Petula Clark, Perry Como, Brenda Lee, Roy Orbison, Sammy Davis Jr., the Box Tops, Rick Nelson, Stonewall Jackson, Ernie Ashworth, Eddy Arnold, George Hamilton IV, Skeeter Davis, the Browns, Connie Smith, Webb Pierce, Barbara Mandrell, George Jones, Bobbie Gentry, the Flying Burrito Brothers, Waylon Jennings, Doc Watson, Sonny James, Anne Murray, Conway Twitty, Willie Nelson, James Brown, Solomon Burke, Nina Simone, Norah Jones, Jay Z and Kanye West.
Here is the album sequence for A Tribute to John D. Loudermilk:
"Everybody Knows" - Harry Stinson
"Tobacco Road" - Rodney Crowell
"Where Have They Gone" - Emmylou Harris
"Blue Train" - Doyle Lawson and Quicksilver
"Windy and Warm" - Tommy Emmanuel
"Then You Can Tell Me Goodbye" - Rosanne Cash
"Midnight Bus" - John Jorgenson
"Heaven Fell Last Night" - The Whites with Ricky Skaggs
"It's My Time" - Herb Pedersen
"Ebony Eyes" - Cory Chisel and Adriel Danae
"Bad News" - Jimmy Hall
"Abilene" - Mike Loudermilk
"Waterloo" - Ricky Skaggs with The Whites
"Sad Movies" - Deborah Allen
"Language of Love" - Beth Nielsen Chapman
"Mr. Jones" - Lee Roy Parnell
"Break My Mind" - Bobby Braddock
"Big Daddy's Alabama Bound – Buddy Greene
"Indian Reservation" - John McFee
"Turn Me On" - Beth Hooker
"Talk Back Trembling Lips" - Becky Hobbs
"Sunglasses" - Claudia Church
"The Great Snowman" - Norro Wilson
"I Wanna Live" - John Cowan
John Jorgenson's consummate musicianship, unerring instincts, and flawless technique on a number of different instruments combine to place him among the most accomplished instrumentalists active today. Jorgenson tours regularly in the U.S. and Europe with three distinct ensembles. The John Jorgenson Quintet, J2B2 (the John Jorgenson Bluegrass Band), and the John Jorgenson Electric Band.
Dixie Gamble was a fixture in the Nashville music business from 1975-1990 as a manager, producer and president of Elektra Asylum Music publishing working with diverse artists such as Pam Tillis, Reba McEntire and The Whites. Since officially leaving the music business she has become an acclaimed filmmaker, author and activist.
BFD was formed in 2013 as the distribution arm of BFE (Bob Frank Entertainment). BFD is a boutique audio and audio–visual distributor with sub-distribution arrangements with Sony / RED Distribution in North America, Essential Music in Europe and The Orchard throughout the world. BFD currently distributes over 30 companies with thousands of masters including Magna Carta, Blixstreet, Tesla, DPTV, Big Deal Records, Synergy Records, Virtual Label Group, A-Train Entertainment, The Atlantic Screen Group (Filmtrax), REMT, UFO as well as artist owned labels and catalogs such as Dale Watson, Dave Davies, Renaissance and Charlie Daniels.