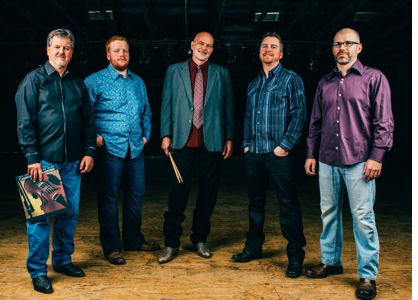 Grayson, KY -- Lonesome River Band returns to Grayson, Kentucky this weekend to host RudyFest at Carter County Fairgrounds. The band will also be celebrating their new album Mayhayley's House releasing Friday on Mountain Home Music Co. The album is available for purchase at iTunes, Amazon and Google Play, LonesomeRiverBand.com [1] and many more outlets.
RudyFest [2] kicks off Wednesday, June 21 with performances by one of the festival's fan favorite groups, Dave Adkins Band, along with Josh Williams Band, Sideline, Billie Renee & Cumberland Gap, and Pactolus Pony Riders. On Thursday, June 22, the line-up includes: Larry Cordle & Lonesome Standard Time, Volume Five, Rhonda Vincent & The Rage, The Grascals, Sammy Adkins and The Sandy Hook Mt. Boys, and Jaylee Roberts Band.
The stellar line-up continues this weekend with Lonesome River Band, The Steeldrivers, Doyle Lawson & Quicksilver, Flatt Lonesome, Junior Sisk & Ramblers Choice, and Turning Ground on Friday, June 23 and The Del McCoury Band, Russell Moore & IIIrd Tyme Out, Balsam Range, Hammertowne, and The Wooks on Saturday, June 24.
Lonesome River Band has two stellar lead vocalists, Brandon Rickman (guitar) and Jesse Smathers (mandolin), with the pro talents of Mike Hartgrove (fiddle), Barry Reed (bass), and banjo master Sammy Shelor. After this weekend, LRB's 35th Anniversary tour continues. Check their website for upcoming dates [3] and venues.