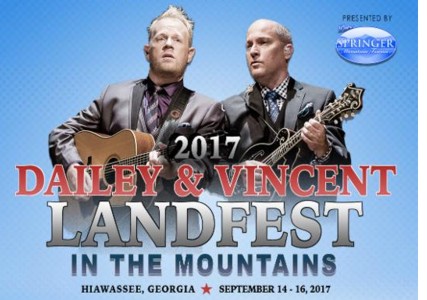 Hiawassee, GA -- Grand Ole Opry stars Dailey & Vincent are gearing up to host their upcoming festival, Dailey & Vincent: LandFest in the Mountains, taking place in Hiawassee, Georgia Sept. 14-16, sponsored by Springer Mountain Farms®. The award-winning duo and WSM are pleased to announce that legendary radio station 650 AM WSM has just joined as a media partner for the highly anticipated event.
The partnership includes live coverage of Dailey & Vincent: LandFest In The Mountains on 650 AM WSM and wsmonline.com, along with airing radio specials prior to, and following the festival. The partnership will bring the highly anticipated festival to a national radio audience and a global online following. Listeners will also be treated to exclusive interviews with Dailey & Vincent, in addition to other performing artists. The emcee for the spectacle will be "Knee Deep in Bluegrass" host Cindy Baucom.
"We are extremely pleased to be extending our partnership and furthering our relationship with Dailey and Vincent," station program manager Jonathan Shaffer said. "Not only are they 'family' to us - as Grand Ole Opry members - but are one of the premiere acts in bluegrass and beyond. This gives us a unique opportunity to provide high-quality live and recorded programming for D&V and WSM listeners, who are one in the same."
Dailey & Vincent: LandFest In The Mountains will feature a unique lineup of artists, including the very best in Bluegrass, Country and Gospel Music (see full lineup below). Artists performing at the festival include Jerry Douglas Presents the Earls of Leicester, The Del McCoury Band, Sierra Hull, Primitive Quartet, as well as former and current members of the legendary Doyle Lawson & Quicksilver. Dailey & Vincent will serve as the host for the 3-day extravaganza. The 14-time IBMA winners will also be performing songs from their latest critically acclaimed project, Patriots & Poets, which features collaborations with Steve Martin, Doyle Lawson, TaRanda Greene, David Rawlings, and Bela Fleck.
THURSDAY: SEP 14

Primitive Quartet
The Current Doyle Lawson & Quicksilver
Dailey & Vincent
Open Mic

FRIDAY: SEP 15

The Band Of Kelleys
Audie Blaylock & Redline
The Original Doyle Lawson & Quicksilver
Dailey & Vincent
Jerry Douglas Presents The Earls Of Leicester

SATURDAY: SEP 16

Monroe Crossing
Larry Stephenson Band
Sierra Hull
Dailey & Vincent
Del McCoury
Jam With Dailey & Vincent
Fans can get the full festival experience by staying on-site. There are 189 campsites that offer full hook ups and amenities. Ticket packages range from $35.00 - $110.00 with general admission or reserved seating available. Fans can purchase tickets to the festival at www.DaileyVincentFest.com [1], www.DaileyVincent.com [2], GeorgiaMountainFairgounds.com, via phone by calling 706-896-4191, or on-site at the venue.