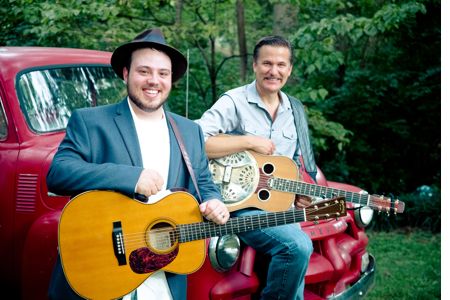 Hiltons, VA -- Clinch Mountain Music Fest is gearing up for its 12th annual celebration of mountain music in Scott County, Virginia, on Friday, June 16 & Saturday, June 17, 2017. The goal of Clinch Mountain Music Fest is to preserve and perpetuate the heritage of the Appalachian region through its' music. Admission to the festival's shows at the Fold is $10 for each concert, $2 for children 6-11, and under 6 free. Doors at the Carter Fold open at 6 p.m., and the shows kick off at 7:30 p.m.
This year's festival is once again dedicated to Jay Dixon who chaired the festival for five years and passed away in January of 2012. Jay was born in Scott County, but he left the area to further his education and pursue his career. We're delighted that one of our main sponsors – RACE 1 – the Regional Adult & Career Education Program – is closely linked to Jay and the beginning of his successful career. Jay was himself a GED recipient. He went on to receive multiple degrees, write textbooks for West Point, and serve as a consultant to the U.S. Military. Passing up a chance to be the Under Secretary of Defense, he chose instead to come back to his native Scott County, establish the Southwest Virginia Community Foundation and Clinch Mountain Music Fest, and to take on the monumental task of refurbishing Bush's Mill in Nickelsville, Virginia.
The SW Virginia Community Foundation continues to flourish under the guidance of Jay's wife, Carol. After his death, she completed the work he had begun on Bush's Mill. Jay was, in fact, born near Bush's Mill and remembered seeing the mill operate as a child. As Jay requested, Clinch Mountain Music Fest was entrusted to the Carter Fold.
Headlining the festival and featured at the Carter Family Fold at 7:30 p.m. Friday, June 16th, are two of the finest musicians imaginable, Rob Ickes and Trey Hensley. While Trey is well-known to Fold audiences, this concert will be his first Fold performance with musical partner Rob Ickes. While Rob and Trey represent bluegrass at its' best, our Saturday concert features the finest old time groups in the nation – the Hogslop String Band. If you are looking for entertainment before Saturday's wrap up concert at the Fold, then you'll want to check out the music, food and craft vendors in Gate City, Virginia. The town of Gate City is partnering with the Fold to present Clinch Mountain Music Fest.
There will be lots of mountain craft vendors and good food vendors throughout Gate City. Music in Gate City will wrap up at 5:00 p.m. so folks can head up to the Fold and enjoy the Hogslop String Band. Having done only a few Fold concerts, the group has quickly become a Carter Fold favorite.
The duo of Rob Ickes and Trey Hensley represent a unique collaborative effort between two gifted musicians, and the combination is a revelation to traditional music fans on several counts. Rob Ickes is a longtime, well-established instrumental giant, and Trey Hensley is a new arrival to Nashville's Music City, bursting with talent both as a vocalist and guitarist. Their new album Before the Sun Goes Down is slated for release this winter. From his powerful yet sympathetic vocal interpretations of traditional and contemporary material to his jaw-dropping instrumental skills on both acoustic and electric guitar and considerable songwriting talents. Trey Hensley is bursting at the seams with freshness and musical excitement. His resonant baritone voice is rich, expressive, equally at ease with classic bluegrass, traditional country, and original compositions. Raised in Jonesborough, Tennessee, Trey began playing guitar and singing when he was 10 years old. Invited by Marty Stuart, and joined from the wings by Earl Scruggs, Trey landed on the Grand Ole Opry when he was only 11. To this day, Marty Stuart remains a fan and booster. Trey has already in his young life played with Johnny and June Carter Cash, Charlie Daniels, Ricky Skaggs, Steve Warner, the Oak Ridge Boys, and Janie Fricke. He's appeared on bills with Sara Evans, Charlie Daniels, Peter Frampton, Randy Owen, Steve Warner, and Marty Stuart, and has appeared before President George W. Bush, First Lady Laura Bush, and Vice President Cheney.
Rob Ickes has been playing bluegrass with his much-decorated band Blue Highway for over twenty years, during which time he has been adjudged bluegrass Dobro Player of the Year fifteen times. Rob has played on countless sessions, recording with artists such as Merle Haggard, Dierks Bentley, Patty Loveless, and Alison Krauss. He has also helped from a jazz-oriented trio, Three Ring Circle, along with Andy Leftwich and Dave Pomeroy. His most recent album Three Bells is a true dobro summit - collaborating with fellow greats Jerry Douglas and the late Mike Auldridge. He even once received a surprise phone call from admirer, jazz guitar and harmonica master Toots Thielemans! In Before the Sun Goes Down, the listener will have the chance to view Rob Ickes – by now an acknowledged master of the dobro and tap steel guitar outside of the box.
Rob was a supporter from the time he first heard Trey when Trey's vocals were featured on Blue Highway's cut My Last Day in the Mine. Trey was just 22 at the time. When Trey and his wife Amber moved to Nashville, Rob began showing Trey the ropes. Before the Sun Goes Down draws from the influence of artists Jimmy Martin, Merle Haggard, Waylon Jennings, Billy Joe Shaver, Bill Monroe, Flatt and Scruggs, Buddy Emmons, Jimmie Rodgers and Bob Wills. The release was cut mostly live with musical overdubs, fixes, punch-ins, and multiple takes with all the musicians in one room in only a few days of studio time. It was recorded in the same manner musical pioneers did their recordings. The spontaneity and joy of creation is palpable in the completed product.
For more information, visit www.robandtrey.com [1], www.RobIckes.com [2], and www.TreyHensley.com [3].
The Hogslop String Band is a Nashville based old time string band comprised of five energetic young musicians hailing from Georgia, Tennessee, California, and North Carolina. Featuring Casy Meikle and Kevin Martin on fiddles, Graham Sherrill on banjo, Gabriel Kelley on guitar, and Casey "Pickle" McBride on the washtub bass, these boys surely raise a ruckus.Upon forming as a pickup square dance band in the summer of 2009, the Hogslop String Band has since become one of the most sought after old time string bands of the Tennessee Valley area. Known for their outrageous facial hair and a rollicking repertoire heavily based on Georgia and middle Tennessee fiddle tunes, these boys have provided entertainment for fashion shows, political conventions, and whiskey distilleries as well as countless weddings, festivals, and soirees.Following in the footsteps of such country music luminaries as Uncle Dave Macon and Gid Tanner, they put on a high energy show easily appreciated by young and old alike. Despite an unkempt appearance, their undeniable charm is as certain to steal your heart as it will your daughter's.
"The Hogslop String Band is one of the most unique bands I have ever heard. Their music takes you back to a time when things were real and from the heart. These guys are very talented, and I recommend that you go see them. You will be thoroughly entertained." Reggie Young – guitarist for Elvis, Willie Nelson, Johnny Cash, & Dusty Springfield.
"Every member of the Hogslop String Band is individually talented and pretty much crazy. As a band, they're as authentic as it gets and an insanely good time." Neal Cappellino – Grammy Award winning engineer.
"Hogslop is the real deal - groovilicious honkin old time string band. Guaranteed old time awesomeness with these fellas around." Abigail Washburn – banjo picker extraordinaire.
"One of the finest square-dance bands on the planet." Jack Silverman – Nashville Scene.
As Executive Director of the Carter Family Fold, I first met the Hogslop String Band when their manager, Josh Trivett, called me to set up an old time tintype photo shoot for the band at the Fold. Having enjoyed working with Josh many times through the years, fascinated by anything historic, and always looking for new groups to perform at the Fold, I immediately agreed. We set up the shoot for a Sunday, and I fell in love with the group the moment they got out of the van.
Because tintype photography takes tremendous patience and time, we ended up spending the entire day together. Getting to meet the group and witness the photo shoot and on-site development of the tintype photos by award-winning photographer Lisa Elmaleh captivated me. Never having met them, I immediately felt I had known the guys – and Lisa - all my life. It was one of the most fun-filled and entertaining days I ever spent. I couldn't recall having laughed so much or having so much fun with folks I had just met in my life. We had so much fun, traffic actually stopped to ask what was going on. Not wanting the day to end, I knew I couldn't wait for them to actually play the Fold. They've played the Fold three times now, and they've brought the house down each time. One of the best old time bands performing today – they have not one fiddler, but two! Hogslop and the Fold are a match made in Heaven.
The Fold is exceedingly proud to welcome Trey Hensley back to our stage. He's a big part of the Carter Fold Family, having performed there for many years. We're thrilled to welcome his talented musical partner, Rob Ickes. For bluegrass lovers, their show will be one for the record books. You certainly won't want to miss it!
If you love old time music and just plain fun, you have to see the Hogslop String Band. There are unlike any other old time group. They said that most places they played were places where people didn't know what slopping a hog was. Boy have they come home! Not only do we know what slopping a hog is, we know whatthe best old time music is. Bring your friends, your inlaws, your young'uns, and your dancing shoes and join us for a night of old time music unlike anything you have ever seen.
The Fold is delighted to present Clinch Mountain Music Fest along with the town of Gate City. Thank you to our sponsors RACE 1 – Regional Adult & Career Education Program for Wise County Schools in Gate City, the Virginia Tourism Corporation, the Scott County Virginia Star; the Kingsport Times News; Bryant Label Company; the Appalachian Cultural Music Association; the National Endowment for the Arts; and the Virginia Commission for the Arts. For information on Clinch Mountain Music Fest 2016, go to the Carter Music Center web site or www.kingalley.com/ [4].
Carter Family Memorial Music Center, Incorporated, is a nonprofit, rural arts organization established to preserve traditional, acoustic, mountain music. For further information on the center, go to http://www.carterfamilyfold.org [5]. Shows from the Carter Family Fold can be accessed on the internet at http://www.carterfoldshow.com [6]. Partial funding for programs at the center is provided by the Virginia Tourism Corporation, Virginia Commission for the Arts and the National Endowment for the Arts. For recorded information on shows coming up at the Fold, call 276-386-6054. The Fold is on Facebook – page Carter Fold – and Twitter – @carterfoldinfo. To speak to a volunteer Fold staff member, call 276-594-0676. If we don't answer you right away, we'll get back to you in 24 hours.