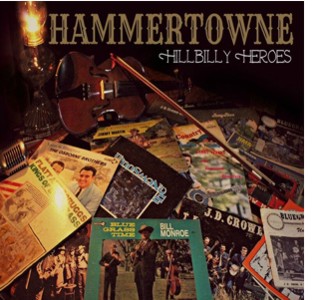 Willis, VA -- Mountain Fever Records is announcing the release of new music from Hammertowne. "Hillbilly Heroes," the title track from the band's upcoming album, is available to radio and consumers today. The album, Hillbilly Heroes, will be released June 2nd. Dave Carrol commented, "'Hillbilly Heroes' pays homage to many of our Bluegrass influences, both past and present. Its maybe my personal favorite of anything that I've been a part of, and I really believe folks that enjoy straight ahead bluegrass music with a meaningful lyric will enjoy it."
Kentucky is branded as the "bluegrass state" and there is no doubt that their own Hammertowne exemplifies the very reasons why. Based in the Eastern region of the state, the five piece band consists of Dave Carroll on guitar and vocals; Brent Pack on banjo; Scott Tackett on guitar and vocals; Chaston Carroll on mandolin and vocals; and Bryan Russell on bass and vocals. From its inception, Hammertowne's identity has been defined by a hard-driving style of bluegrass that combines unique instrumentation with a distinctive knack for weaving vocal harmonies with one foot in the traditional arena to honor those who paved the way before them, and the other in the progressive arena as reflected in their many original songs they write and perform.
Band member David Carroll is highly regarded among the bluegrass community as a writing tour de force with his original songs becoming hits by prominent artists such as Lonesome River Band ("The Game Is Over"), Russell Moore & IIIrd Tyme Out ("Old Kentucky Farmers"), Grasstowne ("My Old Guitar and Me"), and Junior Sisk & Ramblers Choice ("It's Good to See The Homeplace Once Again"), among others.
The title track of their upcoming album, Hillbilly Heroes, was penned by David along with his band-mate Scott Tackett, and speaks to the band's influences musically. Hillbilly Heroes, will be released June 2nd but the first single is available to radio and consumers today. Radio programmers may download the single via AirPlay Direct or a digital download by emailing a request to radio@mountainfever.com [1]. Consumers may pre-order the album now and will receive an instant download of the single. For more information on Hammertowne, visit www.HammertownBand.com [2]. For more on Mountain Fever Records, visit www.mountainfever.com [3].