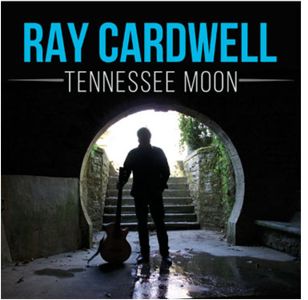 Nashville, TN -- With initial reviews citing bluegrass soul artist/bassist Ray Cardwell's soaring, four-octave vocals and infallible groove, radio airplay charts are reflecting his impact in folk and roots music, as well as the bluegrass world. The much-anticipated January release for the Pinecastle Records recording artist's Tennessee Moon landed in the Top 20 CDs for the month of January by Bluegrass Today National Radio Airplay. At press time the album had charted in the top 10 (peaking at #3) during the past 11 weeks in the Roots Music Report bluegrass chart, which tracks airplay from more than 150 DJs who play roots-based music worldwide. During the month of March, Tennessee Moon was the #8 album on the Folk DJ chart and Cardwell was the 12th most played artist.
Fans of Cardwell's bluegrass soul (and newgrass, past and present), will definitely want to catch Tennessee Moon's performance at 2:30 p.m. Central on Saturday, April 8, at Nashville's world famous Station Inn, as a part of a multi-artist benefit concert planned by the Wilson Pickins agency to benefit victims of the Gatlinburg fire. Ray and the band (by the same name as his album) will be joined onstage by special guests Curtis Burch on Dobro, a founding member of the New Grass Revival, and Pat Flynn, the guitarist in the last configuration of the highly influential band and also the producer of Ray's album.
Nine of twelve songs on Tennessee Moon are Ray Cardwell originals or co-written with fellow bluegrass musicians. Stylistically, he ranges from a cappella gospel quartets and straight-ahead bluegrass gospel to creative covers from The Dillards and Crucial Smith, a new Fred Koller song ("Angel Eyes") and new music that draws from reggae, Motown and newgrass influences.
Tennessee Moon features Cardwell on lead and baritone vocals plus bass guitar. The CD is produced by the legendary Pat Flynn, who gathered a band of bluegrass elite including Scott Vestal (Sam Bush Band), Danny Roberts (The Grascals),Andy Leftwich (Ricky Skaggs and Kentucky Thunder), and Rob Ickes (Blue Highway). Bluegrass Hall of Famer and Grand Ole Opry star Jesse McReynolds plays mandolin on the title cut, and vocal harmony is provided by Ronnie Bowman, Claire Lynch and John Cowan, the former New Grass Revival lead singer/bassist who sings tenor on nine of Cardwell's tracks.
"Ray Cardwell is a man after my own heart," Cowan said, who now tours with the Doobie Brothers as well as his own band. "An extremely gifted soulful singer, a wicked bass player…and a hard working songwriter who understands not only the tradition of bluegrass music but the importance of having his own unique voice in the Amen Corner."
Terry Herd said of Cardwell, "He is more than a kindred spirit to his brothers in New Grass Revival; he has newgrass DNA coursing through his veins. I can't stop listening to this powerful new project."
Producer Pat Flynn said, "We have a bluegrass foundation, but we're able to pull off everything from straight ahead bluegrass and a cappella gospel quartets to blues and even a reggae song. I like the fact that Ray is able to embrace a lot of different styles, and pull them all off."
Cardwell is encouraged by the crossover response at radio from bluegrass, Americana, folk and gospel audiences. "This has exceeded my expectations. Many different styles of music have influenced my life and writing style, and I am so pleased that people are enjoying the songs," Ray said. "Each musical path I have taken over the years has added an interesting layer to what we now brand as 'Bluegrass Soul' – with me returning full circle to the music I played growing up in a Missouri Ozarks family bluegrass band."
A former member of the critically acclaimed bluegrass gospel band, New Tradition, Cardwell returned to Nashville last year to record Tennessee Moon after spending a decade raising a family in Missouri and working as an award-winning high school music director. Ray is endorsed by AirPlay Direct, GHS Strings, Rybski basses, and Rushing basses.