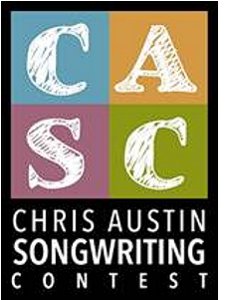 The Chris Austin Songwriting Contest, hosted by MerleFest, announces the finalists for the 2017 contest. MerleFest 2017, presented by Window World, takes place from April 27-30, on the campus of Wilkes Community College in Wilkesboro, N.C.
Now in its 25th year, the Chris Austin Songwriting Contest is an extraordinary opportunity for aspiring writers to have their original songs heard and judged by a panel of Nashville music industry professionals, under the direction of volunteer contest chairperson, Grammy-winning singer-songwriter Jim Lauderdale. The first-place winners will receive $500 cash from MerleFest and a performance slot on the Cabin Stage on Friday night at MerleFest 2017.
Writers of the following 12 songs, selected from over 846 entries, will compete on the Austin Stage in Alumni Hall on Friday, April 28:
Bluegrass

Mike Bentley (Virgie, Ky.) – "Waiting at the Harbor"
Linda Jean Stokley (Versailles, Ky.) – "Cigarette Trees"
Matthew Hurd (Rogersville, Tenn.) – "Life Underground"

Gospel/Inspirational

Ian Meadows (Chester, Conn.) – "Faithless Preacher"
Kevin Hale (Brentwood, Tenn.) – "I'm Finally Going Home"
Paul Kelly (Santa Fe, N.M.), Buddy Guido (Mohawk, N.Y.), Willie Schoellkopf (Buffalo, N.Y.) – "Trap Door (In the Ceiling)"

Country

Carly Burruss (Cumming, Ga.) – "Communion Wine"
Mary Bragg (Nashville, Tenn.), Liz Poston (Nashville, Tenn.) – "Lucky Strike"
Erin James (Nashville, Tenn.) – "Wilted Flower"

General

Alexa Rose (Boone, N.C.) – "Borrow your Heart"
Catherine Backus (Bedford, Va.) – "Tomatoes"
Shay Martin Lovette (Boone, N.C.), Locke Griffith (Carrboro, N.C.) – "Bermuda Run"
All finalists will also get to take part in a songwriting mentoring session with Jim Lauderdale and the on-site judges for the final round of this year's Chris Austin Songwriting Contest. Those judges are lifelong songwriter Mark Brinkman; Berklee College of Music songwriting scholarship recipient Maya de Vitry, who is a member of The Stray Birds; and Joseph Terrell of Mipso.
The first round of the CASC competition takes place in Nashville, Tenn., and is narrowed down to 12 finalists representing four categories: bluegrass, country, general and gospel/inspirational. The first-round judges were critically acclaimed bluegrass instrumentalist Chris Jones; North Carolina musician Jim Avett, who is father to Seth and Scott Avett of The Avett Brothers; natural-born storyteller Ken Tizzard; and Country Hall of Fame honoree Ed Snodderly.
Net proceeds from the Chris Austin Songwriting Contest support the Wilkes Community College Chris Austin Memorial Scholarship. Since its inception, the scholarship has been awarded to 84 deserving students.
The lineup for MerleFest 2017 is viewable at www.MerleFest.org/lineup [1]. And, tickets are on sale now and may be purchased at MerleFest.org or by calling 1-800-343-7857. An advance ticket discount runs through April 26, 2017. Gate pricing begins on the first day of the festival.
MerleFest has unveiled the 2017 MerleFest mobile app, now available for download. The MerleFest mobile app is offered at no charge to users and features the MerleFest lineup and stage schedules, artist biographies, map, announcements, social media links and more. The app allows users to plan for their entire MerleFest experience. Users who currently have the MerleFest mobile app will receive a prompt on their phones to download the 2017 version of the app. The app is compatible with Android and iOS platforms. A bonus for MerleFest fans: once downloaded, the app will be fully functional without having connection to phone service.
Chris Austin, from Boone, North Carolina, worked as a sideman for Ricky Skaggs for three years, singing and playing guitar, banjo, mandolin and fiddle. During that time, he was discovered by executives at Warner Bros. Nashville, who offered him a recording contract. While releasing singles including "Blues Stay Away from Me," "I Know There's a Heart in There Somewhere" and "Out of Step," Austin also developed his songwriting skills, as evidenced in "Same Ol' Love," recorded by Skaggs in 1991. On March 16, 1991, Austin's life was cut tragically short when the private plane carrying him and six other members of Reba McEntire's band, as well as her tour manager, crashed in the mountains near San Diego. Pete Fisher, then of Warnersongs and currently general manager of the Grand Ole Opry, and Kari Estrin, then MerleFest consultant and "Pickin' for Merle" video associate producer, initiated the songwriting contest to honor Austin's memory.
MerleFest, considered one of the premier music festivals in the country, is an annual homecoming of musicians and music fans held on the campus of Wilkes Community College in Wilkesboro, North Carolina. MerleFest was founded in 1988 in memory of renowned guitarist Eddy Merle Watson, the son of the late American music legend Doc Watson. MerleFest is a celebration of "traditional plus" music, a unique mix of music based on the traditional, roots-oriented sounds of the Appalachian region, including bluegrass and old-time music and expanded to include Americana, country, blues, rock and many other styles. The festival hosts a diverse mix of artists on its 13 stages during the course of the four-day event. The annual event has become the primary fundraiser for the WCC Foundation, funding scholarships, capital projects and other educational needs.