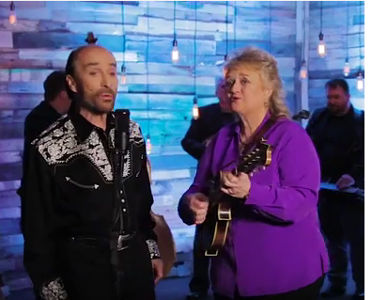 Nashville, TN -- It's been 32 years since Lee Greenwood hit the top of the country charts with his smash single, "Dixie Road," and the hit maker is continuing to turn heads with a new, recreated bluegrass version of the song. The singer/songwriter recently teamed up with Lorraine Jordan & Carolina Road for a remake of the classic song, with a more prominent banjo and bluegrass vibe. The video for "Dixie Road" made its premiere yesterday on Country Rebel and is shown below.
The new version of the song has already seen success internationally, when it was released as a single. The track finished in Hotdisc Countdown's 30 Most Popular Songs of 2015, securing the No. 18 spot. The countdown highlights the top country songs across Europe, and is recognized and published in Country Music People, Country Music & Dance, and Southern Country magazines. The dynamic pairing looks to capitalize on that momentum with the latest official video for the song.
Lorraine Jordan & Carolina Road has been busy promoting their latest album, Country Grass, released via Pinecastle Records. In addition to the cut featuring Lee Greenwood, the star-studded project also features collaborations with Crystal Gayle, John Anderson, The Kentucky Headhunters, John Conlee, Eddy Raven and T.G. Sheppard, Marty Raybon, in addition to the late Jim Ed Brown and Lynn Anderson. The critically-acclaimed project has propelled the chart-topping band to new heights, securing features in top music outlets like Rolling Stone, The Boot, and Country Rebel, while also establishing a presence on their key genre websites like Cybergrass, The Bluegrass Situation, Bluegrass Today and many more.
Lorraine Jordan & Carolina Road on Tour 2017:
Mar. 11-16 Song of the Mountain Cruise
Mar. 25 Bristol, VA - Holiday Inn Hotel
Mar. 31 Kenansville, NC - Blue, Brew and Que Festival
Apr. 8 Marion, VA - Song of the Mountains PBS Series (with Eddy Raven)
Apr. 22 Guyton, GA - Daughters of Bluegrass Festival
May 5 Selma, NC - Ice House Theater
May 6 Liberty, NC - Liberty Showcase Theater
May 20 Sevierville, TN - Bloomin' BBQ Bluegrass Festival
May 26 Snow Camp, NC - Little John's Mountain Music Festival
Jun. 2-3 Thousand Island Bluegrass Festival
Jun. 10 Cherokee, NC - Cherokee Bluegrass Festival
Jun. 15-17 Roxboro, NC - Willow Oak Bluegrass Festival
Jun. 21 Summerville, WV - Music in the Mountains
Jun. 22 Big Island, VA - Sedalia Bluegrass Festival
Jul. 7 Centre Hall, PA - Remington Ryde Bluegrass Festival
Jul. 12-16 Ireland Tour
Jul. 21-22 Ontario, Canada - Minden Hill Bluegrass Festival
Aug. 12 Leonardtown, MD - Lil Margarets Bluegrass Festival
Aug. 25-26 Lodi, NY - Pickin in the Pasture Bluegrass Festival
Aug. 31 New Richmond (Quebec) - The New Richmond Bluegrass Festival
Sep. 15 Garner, NC - Lorraine's Coffee house & Music
Sep. 16 Gloucester, VA - Bluegrass by the Bay
Sep. 22-23 Arcada, MD
Sep. 24-30 Raleigh, NC - IBMA
Oct. 14-21 First Quality Bluegrass Cruise
Dec. 6-9 Pigeon Forge, TN - Christmas in the Smokies Bluegrass Festival
About Lorraine Jordan & Carolina Road:
Hard work has paid off for this award winning bluegrass band. Having a dynamic show has earned them over 100 performances each year throughout North America at more than 60 major festivals. Carolina Road plays worldwide and hosts a national bluegrass festival, Christmas in the Smokies. They have hosted the Canadian Bluegrass Awards, toured Europe, and played 15 bluegrass cruises. Carolina Road's performance is a traditional sound with a fresh approach, which includes invigorating instrumentals, smooth blending vocals, and all the energy that you can stand!
Lorraine likes to think of the band as a family, and her band members have longevity in the band. Ben Greene (banjo/vocals) "2015 Banjo Player of the Year" has been with Carolina Road for 11 years. Josh Goforth (fiddle/guitar/vocals), has also been with them for 11 years, and is a Master Fiddle Player Extraordinaire! He was a 2009 Grammy award finalist for the CD Cuttin Loose. Tommy Long (guitar/lead vocals) has been with the band for 4 years. His outstanding lead vocals and driving rhythm guitar playing helps propel the band. Also touring with the band is much sought after bass player, Alan Hicks, along with dobro player Joe Pessolano. Learn more at www.CarolinaRoadBand.com [1]
About Lee Greenwood:
Throughout his expansive career, international country music icon Lee Greenwood has earned multiple CMA and ACM Awards, a Grammy® for Top Male Vocal Performance on "I.O.U," in 1985, and a multitude of other prestigious award nominations. His discography includes twenty-two studio albums, seven compilation albums, seven No. 1 hits and thirty-eight singles including songs like "It Turns Me Inside Out," "Ring On Her Finger Time on Her Hands," "She's Lyin," "I don't Mind the Thorns if You're the Rose," "Dixie Road," "Somebody's Gonna Love You," "Going Going Gone," "You Got A Good Love Comin," among others.
His stand-out hit "God Bless the U.S.A." has been in the top five on the country singles charts three times (1991, 2001 and 2003), giving it the distinction of being the only song in any genre of music to achieve that feat. It was also No. 1 on the pop charts after 9/11. Known for his stand-out patriotism and support of the U.S. Military, Greenwood has been honored with the Congressional Medal of Honor Society's National Patriot's Award, and entertained troops on more than 30 USO Tours. His latest book release is a children's book called "Proud To Be An American," which is currently available in stores, on Amazon and www.LeeGreenwood.com [2].