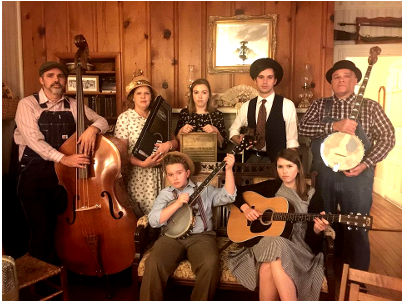 Hiltons, VA -- Saturday, March 4th, 2017, at 7:30 p.m., the Carter Family Fold in Hiltons, Virginia, will present a concert of old time music by Uncle Shuffelo and His Haint Hollow Hootenanny. Uncle Shuffelo and His Haint Hollow Hootenanny is a seven-piece, old-time string band from Rover, Tennessee with musical influences by the Carter Family, Gid Tanner, Uncle Dave Macon, the Coon Creek Girls and many other old-time bands of the past.
Band members emanate from the Williams and Derryberry Families. Uncle Shuffelo (Keith Williams) plays banjo. Austin Derryberry, age 19 plays fiddle, banjo, ukulele, guitar, and harmonica. Brian Derryberry plays upright bass. Conner Derryberry, age 11 plays banjo, bones and spoons. Emma Jean Williams plays autoharp and jug. Megan Williams, age 22 plays washboard and kazoo. Courtney Williams, age 20 plays guitar, banjo, ukulele and tuba.
This band has won many accolades including old-time band championships at the State of Tennessee Old –Time Fiddlers Convention, Tennessee Valley Fiddlers Convention and the Uncle Dave Macon Old-Time Music Festival. Individual championships include Austin on old-time fiddle, banjo, autoharp and old-time singing, Connor as the 2016 Doubler Fellowship Award recipient at the Uncle Dave Macon Old-Time Music Festival and Megan and Courtney for old-time singing. The distinctions for this band are too many to list. Please visit their website https://www.uncleshuffeo.com [1] or Facebook https://www.facebook.com/Shuffelo/ [2] for more information.
Concert admission is $10 for adults, $2 for children 6 to 11, under age 6 free. The Hootenanny plays old-time hillbilly music for the soul. Everyone in the family will enjoy a night of dancing and laughter. Bring your dancing shoes and all your friends and family for a carefree night in the place country music got its' start – at the foot of the beautiful Clinch Mountains. The Carter Family Fold is an alcohol and drug free facility, and we emphasize fun for the whole family.