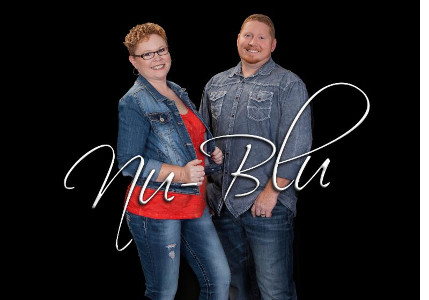 With a jam packed tour schedule that keeps them on the road over 200 days each year, Nu-Blu still takes time to give back and use their talents to further the music they love. Working with several partners, including Peterson Tuners, Saga Instruments, Daddario Strings, and The Foundation for Bluegrass Music, they are taking bluegrass music into the schools everywhere they can... and it's not just introducing kids to the music!
They have developed a system that not only allows them to get bluegrass in front of kids, but also gives back in a major way by working hand-in-hand with the schools to provide fundraising for those music programs. In some schools they have been able to help raise the funding to start a music program where none existed.
"It's all about community," says Daniel Routh, guitarist of Nu-Blu. "When you can get kids excited about the music, and then provide the needed funding, along with involving the community, you create something that going to continue year after year. That's our goal with our school programs."
The most recent of these programs just wrapped up in the Evergreen School district in northern California. Last week Nu-Blu visited 3 schools in the district, performing for over 1500 students in the elementary and middle schools. They ended the week on Thursday night with a fundraising concert held right at Evergreen Elementary School. Music Director Abbie Ehorn says, "We never thought that we would get a national band on the level of Nu-Blu to come into our schools! They were so gracious and so easy to work with, and they really connected with the students. Not only did they introduce bluegrass to our community, but there was enough money raised to purchase 22 ukeleles for the music program!"
Want to have Nu-Blu in your school? Contact them at nu-blu@nu-blu.com [1]
Nu-Blu, based in Siler City in central North Carolina, is comprised of Carolyn Routh, who handles bass and vocals; Clint White, on mandolin and fiddle; T.G. Honaker on banjo & vocals and Daniel Routh, who is the band's Renaissance Man - guitarist, singer, manager, and tour coordinator, among many other roles. The group brings its lively and entertaining version of Americana-bluegrass music to audiences across the nation year-round. Their sound acknowledges the traditional institutions that have shaped it, yet is innovative and daring enough to bring a fresh sparkle to contemporary acoustic music that lands them squarely in the forefront of bands blazing the trail in acoustic entertainment. Influences range from the sounds of original bluegrass pioneers like Earl Scruggs, Jimmy Martin and Lester Flatt to rock bands of the 1980's, and modern contemporary sounds such as Alison Krauss and Union Station. Carolyn's soprano vocal approach might be described as similar to Ms. Krauss, except she carries a phrasing and emotional elegance that shows a clear originality. Daniel and T.J. provide inventive singing to fill out the vocal sound, while all four members present instrumental prowess to impress.
Stay Social with Nu-Blu: