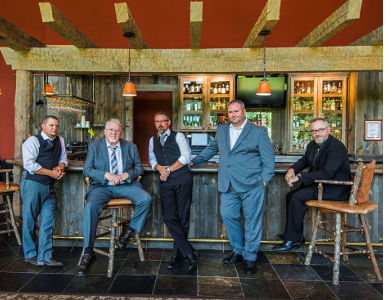 Asheville, NC -- Balsam Range is currently touring in support of
Mountain Voodoo
, their sixth studio album, on Mountain Home Music Company. With it, they are offering something that is sure to continue to mesmerise fans of bluegrass and beyond with elements of jazz, country, gospel, swing, and old-time music that are all infused into the fresh sound of this unique Southern band. It's five distinct personalities creating one remarkable musical experience.
Mountain Voodoo, released last November, is like the book of life "Chapter Six" for Balsam Range; 13-tracks filled with songs of journey, home, sense of place, hardcore drive, and longing. There are fiery instrumental parts alternating with heavy, deep ballads overlaid by the vocal harmonies the group has become known for.
Balsam Range is Buddy Melton (Fiddle, Lead and Tenor Vocals), Darren Nicholson (Mandolin, Octave Mandolin, Lead Vocals, Baritone and Low Tenor Vocals), Dr. Marc Pruett (Banjo), Tim Surrett (Bass, Dobro, Baritone and Lead Vocals), and Caleb Smith (Guitar, Lead & Baritone Vocals). The five original members, who are celebrating their 10th year together this March, are all acoustic musicians and singers from North Carolina. They thoughtfully and respectfully adopted the name of a majestic range of mountains that surrounds part of their home county of Haywood, NC where the Smokies meet the Blue Ridge, the Balsam Range.
"Fans who grew up in a small town will find plenty to relate to in 'Eldorado Blue,' a song that explores the dilemma of whether or not you even want to spread your wings and leave home. Balsam Range describe the song as 'a story of finding oneself and recognizing contentment in life is something we can all stand to do.'"
 --Amy McCarthy for The Boot's World Premiere of the Music Video for "Eldorado Blue"
"Already accomplished musicians, in a decade they've won ten IBMA awards (International Bluegrass Music Association) released five albums, toured nationally, made multiple Grand Ole Opry stops and, in general, have become icons in the world of professional bluegrass. The fellas can both sing and pick."
--Asheville Citizen Times, Carol Rifkin
For all tour dates for the Mountain Voodoo and other stops, visit the Balsam Range website [1] as the most current and accurate list of dates.