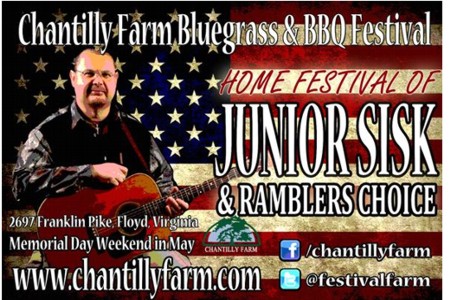 Junior Sisk & Ramblers Choice is excited to welcome fans to the band's home festival, the Chantilly Farm Bluegrass & BBQ Festival, held at Chantilly Farm in Floyd, Virginia on May 26-28.
Sisk and his band began a partnership with Chantilly Farm in 2013. Since then, the special events venue and campground has served as an official touring sponsor of the group. Junior Sisk & Ramblers Choice is based out of nearby Franklin County, Virginia, making Chantilly Farm a natural "home" festival for the band. The group has been a frequent performer at the festival in the past, and is looking forward to what this year's festival has to offer.
The festival will celebrate its seventh year in 2017, and will also expand its musical lineup into a third day for the first time. Full days of music are planned for both Friday (12 PM - 11 PM) and Saturday (11 AM - 11 PM), while Sunday will feature an afternoon of bluegrass Gospel music (12 PM- 5 PM). Junior Sisk & Ramblers Choice will perform both Friday and Saturday, and will be joined by award-winning bluegrass favorites like The Steeldrivers, Larry Sparks & the Lonesome Ramblers, Band of Ruhks, the Grascals, Lonesome River Band, and Joe Mullins & the Radio Ramblers.
RV and tent camping are available on the festival grounds, and numerous food vendors will be on site throughout the weekend. The festival also features additional activities for the whole family, including a corn-hole tournament, hiking trails, kite flying, children's activities, arts and crafts vendors, and more. Plenty of jamming opportunities are available for attendees, as well.
Advance tickets are available until May 25, and can be purchased from the Chantilly Farm website (www.chantillyfarm.com/wp//tickets [1]) or by calling 540-808-4984.
For the full festival lineup, ticket prices, or more information, visit www.chantillyfarm.com/wp/bluegrass-festival [2] or contact Chantilly Farm lead promoter Jason Gallimore at chantillyfarm@gmail.com [3].