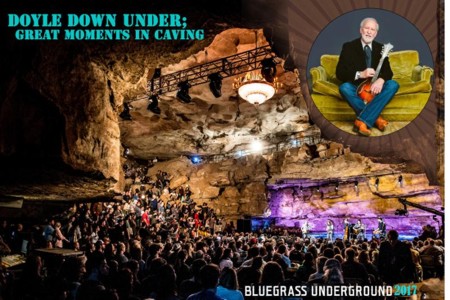 February 25th, Doyle Lawson & Quicksilver return to The Volcano Room with Jenni Lyn. Opening the 1 p.m. show. Doyle's been a longtime favorite here at Bluegrass Underground, always putting on a dependably great concert, backed by a variety of great young pickers and singers. Like Del McCoury or Larry Sparks, at 72, Doyle is too young to be part of the First Generation, but he came along not long after. At 18, The Tennessee native was picking banjo with Jimmy Martin, before going on to play guitar and mandolin with J.D. Crowe, including the legendary lineup that featured Red Allen. He joined the Country Gentlemen in 1971, forming the second great lineup of that band, before leaving in 1979 to lead his own group. He's also featured on the incredibly influential Bluegrass Album Band CDs and tours. Suggested listening - J.D. Crowe, Bluegrass Holiday; The Award-Winning Country Gentlemen; The Bluegrass Album Band Compact Disc (compilation); and Doyle's mandolin instrumental collection, Tennessee Dream.
But all that was before he formed Doyle Lawson & Quicksilver, for 38 years and almost 40 albums, one of the great bands in bluegrass, with all the soul and power of traditional bluegrass propelled by a high energy progressive spin that keeps things fresh and vital. In short, simply great, timeless bluegrass.
But it's easy to take these kind of artists for granted. Back in the late '70s and early '80s, I played bass in Ohio with bluegrass bands led by Katie Laur, one of the first women in bluegrass to run her own group, as well as living legend Red Allen and The Allen Lilly Band featuring
Red's son Harley and banjo master Mike Lilly. So just about every summer weekend, from the mid-'70s to the mid-'80s, I'd be at bluegrass festivals. And just about every week we'd get to see folks like Bill Monroe and Ralph Stanley, Lester Flatt, the Osbornes and other icons. Hard to believe now, but it was easy to take them for granted as well. "Yeah, there's Ralph doing his early-show festival set, Curly Ray Cline will put down the fiddle and start selling those keychains any second now." Well, needless to say, I would give anything to hear Ralph play some old-time clawhammer in the middle of his set; or see Keith Whitley singing with J.D. Crowe, or Bill Monroe with Kenny Baker on fiddle. I wish I could still buy one of those Curly Ray Cline keychains.
But we still have greats with us today and the time to see them is now. Doyle's still here, singing and picking as hot as ever and with a fashion sense - from bus to boots - that no one would have guessed at in the polyester '70s. Don't miss your chance to see Doyle Lawson & Quicksilver. Take my word, you'll be telling your grandkids how you saw him way back in 2017. And in a cave, to boot
The calendar says we're in mid-winter doldrums, but things are heating up fast down in the Volcano Room. The Cavers Almanac forecasted "more" for 2017, and that seems an accurate prediction. In fact, the Bluegrass Underground TV show now has two more Emmy Awards to its credit, taking golden statuettes for Entertainment and Technical Achievement at the Jan. 21 Midsouth Emmy Awards ceremonies in Nashville. That makes a total of 15 won by the TV production. But anyone associated with the show would happily tell you awards are the last reason we do this. There's something special about live music underground and just about everyone who has made his or her way down for a show probably has their own story of why it is so special. The TV show is just a great way to share it with a lot more people in a lot more places.
BGU Season VII goes before the cameras on March 24, 25 and 26 and we are all pretty excited about it. We're got serious bluegrass with Rhonda Vincent & The Rage, featuring the great Josh Williams on guitar and vocals, as well as IBMA Award magnets Russell Moore &
IIIrd Tyme Out. For Americana lovers, we've got The Mavericks, Kasey Chambers, Parker Millsap and Marty Stuart leading his aptly named Fabulous Superlatives. It's a big list and includes beautiful Southern gospel harmony by The McCrary Sisters, some of my most absolutely favorite singers and people in this world, and Southern soul man Don Bryant, who recorded for the great Memphis label Hi Records, and who will lead the legendary Bo-Keys. There's much more, so you just have to check it all out here. As I write this, we only have a few seats left for sale, so I'll let you in on a secret: Yeah, they gave us all those Emmys for the TV show, but it's still a whole lot better in person. You've just got to come and get some of that cave dust on your shoes. And come September, when BGU VII starts airing, you'll appreciate the TV show even more. You might even make an on-screen appearance or two.