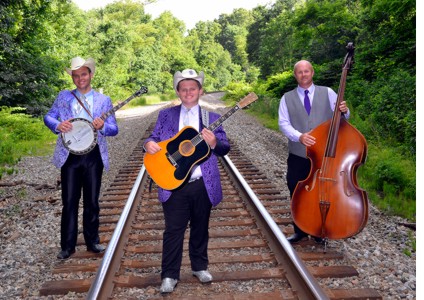 Hiltons, VA -- Saturday, January 28th, 2017, at 7:30 p.m. the Carter Family Fold in Hiltons, Virginia will present a concert by Jonah Riddle and Carolina Express. Carolina Express was formed by brothers Jonah and Grayson Riddle. Jonah, age 17, has been playing the banjo since the age of 4. From the first time he picked up the instrument he fell in the love and began playing in church three times a week. He enjoyed playing bluegrass and gospel so much he decided to form his own band and asked his brother Grayson to play guitar. Grayson, age 12, has been playing guitar for 3 years and loves the Jimmy Martin style of bluegrass. Their dad Benjie Riddle plays upright bass and grandad Butch rounds out the band on dobro.
Jonah and Grayson have had the privilege of picking on stage with many great artists – Doyle Lawson, Darin & Brooke Aldridge, Balsam Range, Ralph Stanley II, Nu Blue, Ricky Skaggs, J.D. Crowe, and Kody Norris – just to name a few. They have performed many concerts all across the U.S. The Ryman Auditorium Courtyard, the North Carolina State Fair in Raleigh, Woodsongs, the Lyric Theatre in Kentucky, Houstonfest, the Orchard at Altapass, the North Carolina State Bluegrass Festival, Bluegrass First Class in Asheville, North Carolina, the Earl Scruggs Center, the Pickin' Porch, and the Museum of Appalachia are just a few of the events and venues they have played.
Members of Tomorrow's Bluegrass Start, they have performed at IBMA Kids on Bluegrass in Raleigh, North Carolina. They have won several awards during the time they have been performing such as Best of Show and individual awards for playing their instruments.
Joining Carolina Express on fiddle will be Tom Isaacs. Tom is a well-known musician at the Fold and has played with many various bands including Ralph Stanley and Ralph Stanley II. He also performed through the years with a local friend, Kody Norris, and as the banjo player for Larry Efaw and Lonesome Will Mullins.
For some of the finest bluegrass music the southeast has to offer, don't miss Jonah Riddle and Carolina Express at the Fold. There will be traditional bluegrass tunes, lively fiddle tunes and instrumentals and gospel tunes. Don't forget your dancing shoes, and be sure to bring along all your family and friends.
Carter Family Memorial Music Center, Incorporated, is a nonprofit, rural arts organization established to preserve traditional, acoustic, mountain music. For further information on the center, go to our web sites http://www.carterfamilyfold.orgor [1] www.carterfamilyfold.com [2]. Shows from the Carter Family Fold can be accessed on the internet at http://www.carterfoldshow.com [3]. Partial funding for programs at the center is provided by the Virginia Commission for the Arts and the National Endowment for the Arts. For recorded information on shows coming up at the Fold, call 276-386-6054. The Fold is on Facebook – page Carter Fold – and Twitter – Twitter @carterfoldinfo.