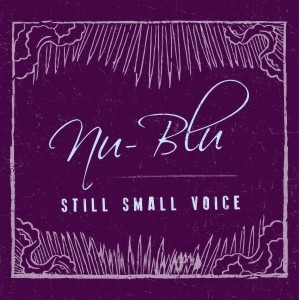 Nashville, TN -- The wait is over for Nu-Blu's new single, "Still Small Voice," Available now on iTunes, Amazon and Spotify. The upbeat track serves as the first single for the band's sixth studio project, slated for release this spring. Country Music Hall of Famer and Gospel Music Hall of Famer Jimmy Fortune is also featured on "Still Small Voice." Nu-Blu is also pleased to announce that they will be teaming up with Voxhall Records after recently inking a deal for highly-anticipated project.
"When we first heard this song, it instantly spoke to us. That still small voice can be that fleeting thought just before you speak, that internal angst that you battle within yourself over the most important or simple choice," said Nu-Blu's Carolyn Routh. "Be it a thought from you own soul, or from a higher power, that voice is always the one that gives you 20/20 hindsight while illuminating your path forward at the same time, if we listen to it. So next time don't suppress that thought, instead let that still small voice scream!"
The upcoming project marks Nu-Blu's first album launch since their 2014 project, All The Way. The first offering from the project, "Still Small Voice," is a lively bluegrass track featuring Nu-Blu's powerhouse vocalist Carolyn Routh and Country Music Hall of Fame singer Jimmy Fortune singing together on the inspirational song. A third harmonizing vocalist includes Ben Isaacs of the popular Gospel group The Isaacs. The track was written by Fortune, along with Devin Belle and Tony Lopacinski.
"Every now and then a group will come along and capture the attention of your heart and soul with the uniqueness of the music. I was so honored to have them record a song I co-wrote with two friends, Devin Bell and Tony Lopacinski. 'Still Small Voice' was a proud work of ours and I must say the song found it's voice and Nu-Blu recorded it."
  ~ Jimmy Fortune
Nu-Blu On Tour:
Jan. 20-22 - Anaheim, Calif. - NAMM
Jan. 28 - Santa Clarita, Calif. - House Concert
Feb. 3 - Victorville, Calif. - Bluegrass in the Schools Fundraiser - West Palms Conservatory
Feb. 4 - Los Angeles, Calif. - Metal Shop Concert Series
Feb. 12 - Julian, Calif. - Julian Station
Feb. 16 - Cottonwood, Calif. - Evergreen School Fundraiser- Evergreen Elementary School
Feb. 18 - Sutter Creek, Calif. - Sutter Creek Theater
Feb. 24 - Albuquerque, N.M. - Southwest Pickers Concert Series
Mar. 3 - Valdese, N.C. - Bluegrass At The Rock - Old Rock School
Nu-Blu, based in Siler City in central North Carolina, is comprised of Carolyn Routh, who handles bass and vocals; Clint White, on mandolin and fiddle; T.G. Honaker on banjo & vocals and Daniel Routh, who is the band's Renaissance Man - guitarist, singer, manager, and tour coordinator, among many other roles. The group brings its lively and entertaining version of Americana-bluegrass music to audiences across the nation year-round. Their sound acknowledges the traditional institutions that have shaped it, yet is innovative and daring enough to bring a fresh sparkle to contemporary acoustic music that lands them squarely in the forefront of bands blazing the trail in acoustic entertainment. Influences range from the sounds of original bluegrass pioneers like Earl Scruggs, Jimmy Martin and Lester Flatt to rock bands of the 1980's, and modern contemporary sounds such as Alison Krauss and Union Station. Carolyn's soprano vocal approach might be described as similar to Ms. Krauss, except she carries a phrasing and emotional elegance that shows a clear originality. Daniel and T.J. provide inventive singing to fill out the vocal sound, while all four members present instrumental prowess to impress.