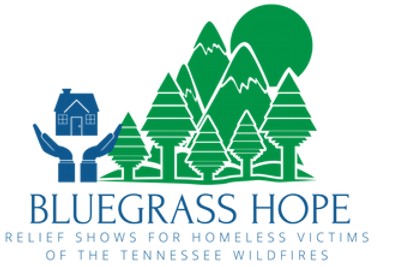 The Bluegrass Jamboree and Wilson Pickins Promotions, in partnership with sponsored venues, countless bluegrass bands, food providers, instrument builders and retailers alike and festival promoters, are proud to announce the Bluegrass Hope Concert Series, to benefit the victims of the Gatlinburg wildfires being cared for through the Tennessee Valley Coalition for the Homeless, a non-profit organization.
On November 28th, 2016, our lives and the lives of our friends, neighbors and the beautiful community of Sevier County, Tennessee and surrounding areas were forever changed by the wildfires that crippled the region. So many people, so many families were left with nothing. Many of the victims who had no insurance, savings accounts, or alternate forms of financial recovery were left homeless and without jobs or transportation. The Tennessee Valley Coalition for the Homeless has stepped in to pick up where immediate relief organizations left off when they pulled out of Ground Zero. But they need your help. The effort to help these people get back on their feet in Sevier County, maintain new homes, find jobs and deal with the trauma they have faced will be an ongoing struggle.
The Mission of the Tennessee Valley Coalition for the Homeless (TVCH) is to provide services, education and leadership to develop lasting solutions to homelessness in our region.
The Bluegrass Hope Concert Series will consist of eight bluegrass events in eight different states with performances by all different bluegrass bands, both national touring and regional to the areas. Bands interested in a venue, feel free to contact Melanie Wilson regarding show date and availability. Further, if you would like to make a donation for the raffles, please contact us: info.bluegrasshope@gmail.com [1].
Please come out to a show nearest you, enjoy the music from some of Bluegrass music's top entertainers, buy some raffle tickets and donate some of your time to these neighbors. Please keep in mind that this could have happened to your cousin, your brother, your CHILD, it could have happened to YOU.
Bluegrass Hope is a collaboration of passionate bluegrass enthusiasts in a variety of fields. Our goal is to bring together this spectrum of talent in an effort to entertain, inform and raise funds for the Tennessee Valley Coalition for the Homeless who is helping to rebuild lives in the aftermath of the wildfires.
Annette Grady and Melanie Wilson have been so moved by the outpouring of support they have received to assist with this cause to further the case management needed to keep these people in houses, in schools, getting to their doctors appointments, locating jobs, and receiving the trauma counseling they need after surviving such a horrific disaster. Thank you from the bottom of our hearts and we look forward to seeing all of you at an event nearest you!