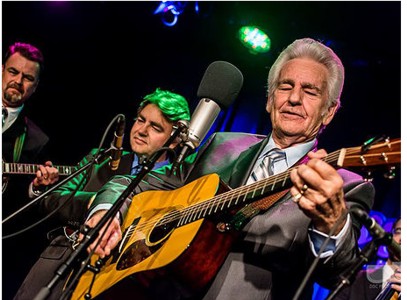 It's an all-bluegrass weekend at Barter Theatre, January 13-15. Scroll down to see the bluegrass legends on stage this weekend in Abingdon. Due to inclement weather, the Justin Townes Earle event has been rescheduled to Tuesday January 17th!
Barter Theatre, located in Abingdon, Virginia, opened on June 10, 1933 making it the nation's longest running professional theatre. In 1933, when the country was in the middle of The Great Depression, spare money for a theatre ticket was not easy to come by. Robert Porterfield, founder of the theatre, offered a unique solution to allow locals to attend shows. Rather than traditional money, patrons could pay for admission to the theatre by bartering food, livestock or other goods. For 40 cents, or the equivalent in bartered goods, anyone could see a show. In 1946, Barter Theatre was designated as the State Theatre of Virginia. Today, Barter is one of the last year-round professional resident repertory theaters remaining in the United States.
The Del MCoury Band, January 13th

For more than fifty years, Del McCoury's music has defined authenticity for bluegrass fans as well as those only vaguely familiar with the genre.
 
McCoury is something special, a living link to the days when bluegrass was made only in hillbilly honkytonks, schoolhouse shows and on the stage of the Grand Ole Opry, yet also a commandingly vital presence today, from prime time and late night talk show TV to music festivals where audiences number in the hundreds of thousands.
 
January 13th at 8:00pm, with opening act Bill and the Belles, a popular East Tennessee group.

John Cowan with Darin and Brooke Aldridge, January 14th

John Cowan, also known as the "Voice of Newgrass," for his work with the seminal bluegrass band Newgrass Revival, has been singing his heart out for thirty-five years, and his soaring vocals have only improved with time.
 
For his current tour, he's tapped rising stars Darin and Brooke Aldridge to help him bring a fresh take to some of Newgrass Revival's best songs. A true innovator, John applies his powerful pipes to genres from country, bluegrass, and gospel to soul, jazz, and rock-and-roll – often within the space of a single concert.
 
January 14th at 8:00pm with opening act Zoe & Cloyd, an acclaimed Asheville duo.

The Infamous Stringdusters: The Laws of Gravity Tour, January 15th

At the helm of today's bluegrass advancement stands The Infamous Stringdusters. This acoustic quintet combines a collective skillset seldom rivaled, but often reveled.>
 
The Stringdusters' resume includes six studio albums, four International Bluegrass Music Association awards, and a Grammy nomination, but their true brilliance lies in their passion for live performance. Intricate harmonies, cleverly composed arrangements and their profound commitment to presentation induces traditionalists and newcomers to stomp their feet on common ground.
 
January 15th at 8:00pm with opening act Billy Strings.

RESCHEDULED! - Justin Townes Earle: January 17, 2017

Once compared to a man who wears many suits, in thirty-two short years Justin Townes Earle has experienced more than most, both personally and professionally.
 
Between releasing four full-length-critically-acclaimed albums, constant touring, multiple stints in rehab, a new found sobriety, being born Steve Earle's son, amicable and not-so-amicable break-ups with record labels, and facing the trials and tribulations of everyday life, it's safe to say JTE has quite the story to tell.
 
"Absent Fathers," his fifth album (and first ever on Vagrant Records) serves as the perfect platform for such narrations. As a recently married, sober man JTE writes from a point of maturity and content we've not seen before on past records. "One day I just realized it's not cool to die young, and it's even less cool to die after 30," Justin states as he reflects on a life past and his newly found clarity. What he's created is material that's raw, honest and personal in a way he hasn't touched upon since his debut EP, Yuma. Tuesday January 17th at 8:00pm with special guests If Birds Could Fly.
Tickets for these events are available online by Clicking Here [1].