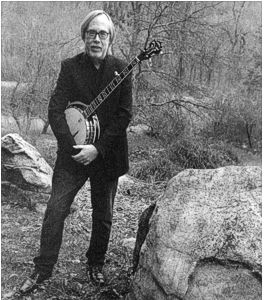 Of A Winter's Night
is banjo master Tony Trischka's celebration of the season, where he turns his considerable melodic inventiveness loose on Bluegrass and Americana music for the holidays. Tony will be performing two hometown shows, December 22 at Mexicali Live in Teaneck, NJ and December 24 at Joe's Pub in NYC. Tickets are on sale now.
With the backing of extraordinary musicians who also revel in songs long forgotten and little known, Of a Winter's Night will feature music from the 1844 Sacred Harp book, the Revolutionary era and old-time fiddle music, as well as Woody Guthrie, Leadbelly, classically influenced carols and hard-driving bluegrass.
One of the most influential banjo players in the roots music world, Trischka will be joined by by multi-instrumentalist and shape-note singer Tim Eriksen (Cold Mountain), vocalist and fiddle player Zoe Darrow, his longtime bassist Skip Ward and son Sean Trischka on drums.
Tony Trischka has released two holiday records, Of a Winter's Night (2014, Rounder) and Glory Shone Around (1995, Rounder).
Tony and his band performing "Time to Remember the Poor"

Hear Of a Winter's Night on the Bluegrass Situation [1].
Tony Trischka is a 2012 United States Artists Friends Fellow, Trischka has, for more than 45 years, inspired generations of bluegrass and acoustic musicians with the many innovative and historical voices he has brought to the instrument.