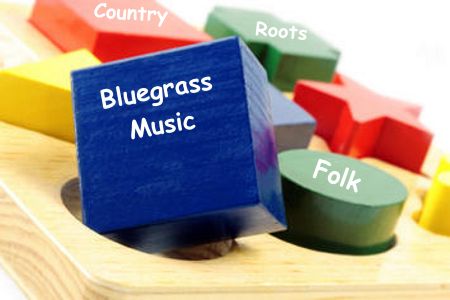 It is generally accepted that around 1938 was to be the beginning of Bluegrass. Although this form of music may have been called Kentucky or Kentuckian had it not been for the fact that Bill Monroe didn't like the name. His first band was called the Kentuckians. The Kentuckians had a jug player instead of a bass player. It was in 1938 that Monroe made his first recording which was to become his trademark song, The Mule Skinner Blues which was recorded on October 7th. It is interesting to note that Monroe played a guitar on this first recording. It wasn't until 1940 that Bill Monroe and the Blue Grass Boys actually cut their first disc. Early members of the Blue Grass Boys included a female accordion player and Dave (Stringbean) Akeman on the banjo. Soon after, Monroe changed the makeup of the band. He added a singer, Lester Flatt and a Banjo player, Earl Scruggs, who had mastered the 3-finger style of Banjo which got its foundations from Snuffy Jenkens.
This new band with Monroe, Flatt, and Scruggs created the sound which is called Bluegrass Music today. This new style was originally considered to be folk music and was considered pretty avant garde in its day. The instrumentation was all acoustic consisting of a banjo, mandolin and guitar with fiddle and bass added later. The problem was that this style of music wasn't really folk. It wasn't country either. This dilemma continues today as people, record companies, writers, and others try and figure out just where to classify Bluegrass music.
With contemporary styles evolving and the traditional sound firm in its foundations, Bluegrass music has become just that - Bluegrass. For some reason, the music industry is always trying to classify this unique style of music as a sub-culture of some other art form. Is it folk or country? The problem is that it really is a unique style and it just doesn't fit well in any other classification. Many Bluegrass songs have deep religious roots and these often get classified as gospel music. Bluegrass is Bluegrass. There are adequate artists, each with their own style, to define an individual style of music. Why can't Bluegrass be Bluegrass? Why must it be a part of something else?
Bluegrass is breaking new ground and is quite fertile in its original state. The music remains and is evolving. The tradition of the style is strictly defined yet nobody can actually define it yet, one knows it when they hear it. This is due to its unique style. Again and again, this music form stands out from the noise of the other forms which have constantly changing style. Bluegrass style hasn't changed significantly since its creation over 50 years ago. It hasn't needed to.
People from all walks of life enjoy creating and listening to this style of music. One might suspect that it is only those who grew up with Bluegrass who would enjoy it however, a fresh new younger generation is also active in their enjoyment and participation of Bluegrass. The current artists are finding themselves caught in the old classification game. Most recently, one group, Mountain Faith Band, made it to the national television program, America's Got Talent and they made it all the way to the finals. This gave bluegrass national television exposure and led the band to more public appearances.
Many country artists have their roots in Bluegrass. Most of these artists still enjoy the music as much as they enjoy their contemporary country sound. This may be a significant part of the reasoning to put Bluegrass into the country classification. Country music's The Grand Ole Opry has featured Bluegrass bands and artists frequently over the years yet country music radio stations seem to shy away from it. Possibly it is due to the pressures that commercialization of music places on the artist. Commercial music is a business and it is revenue which dictates the sound. With the death of traditional country on radio, this leaves bluegrass music as an alternative where they can go for a more traditional music style.
Producers and record companies are not in the business of failure. They have a responsibility to those who finance their operation. The company and their stockholders. This constraint doesn't fit well with a style of music which has such a unique sound. Its risky business to interrupt the flow of Top-40 music with a sound that is basically foreign despite the influence it has had upon the sound. Since the traditional style of Bluegrass doesn't permit a great deal of variance in its overall architecture, tailoring of the product to the commercial marketplace doesn't fit either.
The only avenue left for Bluegrass is to be played on Bluegrass programs. Sadly, there are not enough of those even though a significant part of the population enjoys the music. It is the independent record companies, private venues, and non-commercial broadcast stations which are the primary channel for Bluegrass. Independent record companies such as Mountain Fever Records, Patuxent Music, Pinecastle, Rounder and other small Indie labels are the ones who take the effort to support this style of music and insure its distribution to those of us who want to hear it. The large companies and top stations just can't take the risk of a loss nor dedicate the time and effort on what they consider to be an insignificant part of the market.
So, the issue remains unanswered. Where do you put Bluegrass? If it is essential that it be a subculture of another musical form, it will continue to be the outcast of the musical world. If you call it a style of its own, can it survive? Is the world ready for another form of music which cannot be plasticized into a commercial marketing tool? The roots and tradition of this young style of music are experiencing growing pains much as we do as adolescents. We're trying to establish our own identity and individualisms yet remain socially acceptable. Bluegrass has clearly established its identity and it is now seeking its acceptance into the popular music world.
It is likely that this struggle will continue as it too is part of the roots and tradition of Bluegrass. There is no black and white approach to classifying musical styles yet there isn't any gray either. It becomes necessary to adapt the concept of color in order to find acceptance and Bluegrass is colorful music. It remains fresh and full of energy as does any young thing and it will grow and evolve. Where it will end up is anybody's guess but it will survive. The artists, the fans, and the music will live on regardless of where you put it even if you put it into a place of its own. In reality, that's where it is already.